took the

What Famous Leader Are You?

test, you have the option to choose how many of the given number of questions you want to answer. but since i had nothing better to do, i took each one.

test 1: 9 questions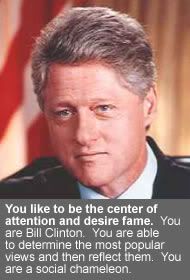 "I want to say one thing to the American people, I'm going to say this again. I did not have sexual relations with that woman, Miss Lewinsky. I never told anybody to lie. Not a single time. Never. These allegations are false and I need to go back to work for the American people."
wrong! okay, so sometimes i like to be the center of attention but im not a social chameleon. im actually shy (with innocent-puppy-dog-eyes look), but once you get to know me better, that's the time i get down to business. lol.
test 2: 18 questions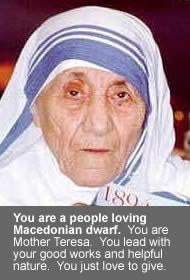 "When a poor person dies of hunger, it has not happened because God did not take care of him or her.
It has happened because neither you nor I wanted to give that person what he or she needed."
people-loving, period. don't include the dwarf in there. don't make me feel shorter than i already am (nix, insert contradiction! hehe). i just love to give. but i'm no santa claus! so sorry to those who have wishlists. lol.
test 3: 27 questions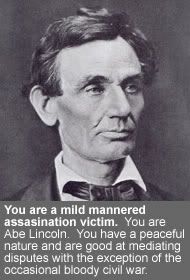 "Common looking people are the best in the world: that is the reason the Lord makes so many of them."
that's why i'm practicing to be bad. madaling mamatay ang mabait. hehe. but yeah, i hate war. i like to believe that people should settle their differences by talking it out. what's the sense of fighting over someting without even knowing what you or the opposition's fighting for?
test 4: 45 questions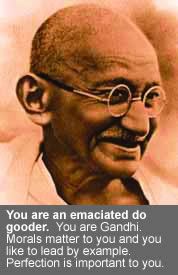 "Live simply that others may simply live"
i'm a do gooder, no hidden agendas or indecent proposals. hehe. i may have to start a spiritual organization. nah. "all that we need is, give peace a chance…"
---
personality tests by similarminds.com
posted Wednesday, 15 December 2004
Shawty

made this comment,
mey hitler ba sa list?? hehehe anyhoo your question about the doodle???after doodling. click mo yung print screen button sa keyboard. nasa upper right area. then go to ms paint and then click edit tapos paste. what it does is that it copies whatever na naka display sa monitor mo. icrop mo nalang para makuha mo yung dinoodle mo.hope you get it though hehehehe.
comment added :: 15th December 2004, 19:57 GMT+08
nicole

made this comment,
lol errrr..medyo ayoko yata kay

bill clinton

, may hang over ka pa yata sa school ah you seem to like taking tests hahahahatake care ed!
nicole
comment added :: 16th December 2004, 03:03 GMT+08
Nix

made this comment,
hmmmm… sino kaya ako?Leaders? Leadership Training? lol. ewww. bad bad bad memories…
comment added :: 17th December 2004, 12:06 GMT+08
A visitor made this comment,
i tried the leadership test. and i got

albert einstein

. not bad.merry xmas!

Paul


comment added :: 17th December 2004, 12:06 GMT+08
amia

made this comment,
im gandhi??? lol
comment added :: 18th December 2004, 18:45 GMT+08
edandhisdarkgreenlife

made this comment,
shawty: there sure is (hitler). ;p thanks for the tip ah! nadagdagan naman utak ko sa mga computers. hehenicole: haha, effect of boredom. how's mrs. jones law? hehe.nix: hmmm? you? che guevarra maybe. or better yet,

jfk

. hehe.
paul: merry christmas!amia: limited lang kasi. joke! hehe. nice header by the way!
comment added :: 19th December 2004, 19:14 GMT+08
Nix

made this comment,
what do you mean by am like guevarra or

jfk

… hmmm… ???
comment added :: 20th December 2004, 09:30 GMT+08
Please don't forget to confirm your subscription by checking your Inbox.
---
soloflightEd.com is a travel blog by Edcel Suyo. He enjoys performing headstands and crazy stunts during his trips in the Philippines, Southeast Asia, and the Middle East. Now based in Dubai, United Arab Emirates and working to earn a living, he takes time to enjoy the city and travel during weekends.
For updates, Like his page on Facebook or Follow him on Twitter.
For questions, advertising, and other concerns, shoot an email to ed@soloflighted.com.

---