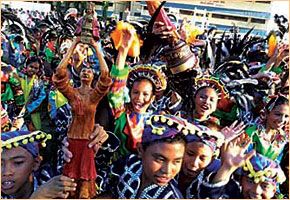 sinulog
PIT SENYOR!
(i still don't know what that means)
while everyone was busy preparing and watching and participating in the different events, parties and the much-anticipated street-dancing parade, i slept till my head hurt during the sinulog festival. nothing significant really happened on why i trapped myself in isolation, cuddling myself up even when the temperature was scorching hot. well, there's always next year. funny cause i was thinking of the many activities i'll be attending: face paint, bazaars, free concerts; i even planned to act like a tourist, carrying a really big back pack or hang a press tag on my neck, having my photos taken with the participants to have a feel of why this is an exciting event especially for the cebuanos. the previous year, too. i wasn't able to marvel that much coz i was working my butt off when i was still at a fastfood joint, since our store was at the corner of the main highway. our traffic count was at its peak and my face was facing the fries station, readying and assembling those beloved potato strips for the consumption of the customers. so next time you see someone preparing fries in a fast food place, think of me doing the same thing… for 6 hours. hehe. was only able to get out at night, when it was over. that's two festivals here missed. i never really fancied these events though except for the food. coz there was this one time, at band camp, hehe. no, there was a time when i was little, during the kadayawan festival in davao, i was just sitting at the head of my companion when a clown suddenly went towards me and squished my face really, really hard. got mad but i couldn't do anything, yeah right, like i could do anything. but i'm not saying that i'm afraid of clowns, i just don't like them either. hehe. seems i'm getting out of the topic. anyway, that's that.
posted Tuesday, 18 January 2005
A visitor made this comment,
i think saying "pit señor" is like saying "hail!". or something like that. 🙂

Paul


comment added :: 18th January 2005, 13:20 GMT+08
CNBGirl

made this comment,
pinanood ko yan sa TV. 🙂
comment added :: 18th January 2005, 14:45 GMT+08
ravissant

made this comment,
Patied too much the night before when I went home for the 1998 Dinagyang Festival so I totally missed the performances. Kinda bummed out from flying billions of miles for it & ended up watching it on TV instead.
comment added :: 19th January 2005, 08:02 GMT+08
nicole

made this comment,
i think all the jostling around and the crowd is so worth it, ang saya! :Dtake care
nicole
comment added :: 20th January 2005, 02:28 GMT+08
Please don't forget to confirm your subscription by checking your Inbox.
---
soloflightEd.com is a travel blog by Edcel Suyo. He enjoys performing headstands and crazy stunts during his trips in the Philippines, Southeast Asia, and the Middle East. Now based in Dubai, United Arab Emirates and working to earn a living, he takes time to enjoy the city and travel during weekends.
For updates, Like his page on Facebook or Follow him on Twitter.
For questions, advertising, and other concerns, shoot an email to ed@soloflighted.com.

---