I got free tickets to Enchanted Kingdom!

Some time two weeks ago I blogged about how I was able to go to Enchanted Kingdom in Laguna but was not able to enter due to a Family Day sponsored by a telecommunications company. It was a bummer for me to be there on the actual site but only up to the entrance. However when I published my post, somehow the Head of Guest Relations dropped by and left a comment. I'm posting it again.
———————————–
I want to commend your effort and reward your persistence. Next time you are in Manila, contact me and I will provide you FREE access to the park. Hopefully you will enjoy the park and discover that, no, it hasn't been bought by somebody else after all. And that it is real and exciting!
Regards,
Richard P. Burgos
Head of Guest Relations
Enchanted Kingdom
———————————–
At first, I didn't want to believe right away that this was true but I also gave it the benefit of a doubt considering how formal the comment looked like. I contacted Richard thru his email and thru Facebook and informed him that I'd be visiting with some friends on a Saturday. However, I was having a hard time getting a reply from him.
Anyway, on the said date, I was finally happy to see that EK was open for public! I also saw a Guest Relations office beside the ticketing booths and decided to drop by and inquire. Just my luck, although Richard wasn't there around 2pm, he left a note to the staff cause they were expecting my arrival. I felt like a VIP considering the gesture of leaving complimentary tickets for me which I gladly accepted.
In the end, I finally got to try the rides in the amusement park. I lost my voice too, from all the screaming and shouting. To think that I haven't slept since I went directly from my shift. RioGrande Rapids, Anchors Away, Up, Up and Away, Roller Skater, Flying Fiesta, Wheel of Fate and much more; so many spots to go to, so little time.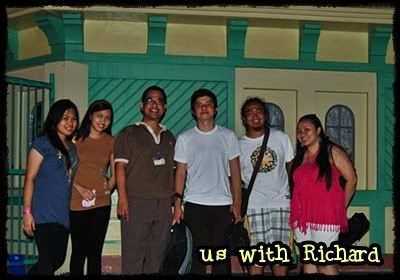 When it was time for us to go home, I saw a familiar face at the exit thanking their customers for coming. I realized then that it was THE man himself, Richard. I introduced myself and had a small chitchat about how I was able to arrive here. What's great is how accommodating he sounded and he was really nice and even took the time to introduce himself to the people I was with; one by one. When narrating the story of finally being able to enter the park, he even mentioned the bike that I also blogged about last time. It just goes to show that he really is attentive to details. I wonder when will I get this type of excellent service for customer satisfaction again; it erased whatever negative emotion I had. We left contented with smiles on our faces.
I am also thankful for having Nizza, Carlo, Kay & So with me on that day. At least I didn't have to worry about looking like a lunatic alone from all the screaming cause I had company. hehe. Sigh, the power of blogging.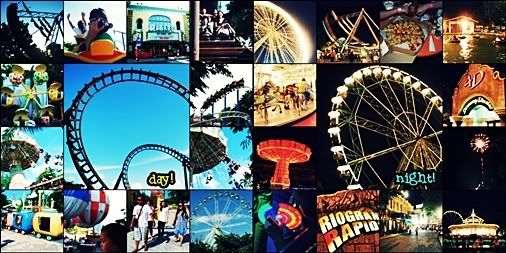 Thanks Richard and Enchanted. It was a blast!
Please don't forget to confirm your subscription by checking your Inbox.
---
soloflightEd.com is a travel blog by Edcel Suyo. He enjoys performing headstands and crazy stunts during his trips in the Philippines, Southeast Asia, and the Middle East. Now based in Dubai, United Arab Emirates and working to earn a living, he takes time to enjoy the city and travel during weekends.
For updates, Like his page on Facebook or Follow him on Twitter.
For questions, advertising, and other concerns, shoot an email to ed@soloflighted.com.

---