Twin Lake or Lake Balinsasayao and Lake Danao
Negros Oriental
I never thought that Twin Lake or Lake Balinsasayao/Lake Danao in Dumaguete was actually near. I've lived in Dumaguete for 3 and a half years and spent the most part of my high school there. I studied in a Catholic school and there was a point where we stayed in Amlan which is a 30-minute ride to and fro school. I never knew that we could just pass by the place whenever we could. However, I wasn't really able to visit great places to travel since I didn't have the budget and I didn't have the budget (no, that's not a typo).
This time, I had the opportunity to visit Negros Oriental from Cebu for business and a little sight-seeing. We went to Casaroro falls during one of the last visits and I made sure I'd be able to drop by the famous Lake Balinsasayao at this point.
I just wanted to create an entry on how we got to the Twin Lake to help out other travelers who might fancy the places to see in Dumaguete City.
Doi accompanied me on a weekend and we travelled from Cebu to Dumaguete and stayed at Harold's mansion. From Harold's you can coordinate with the hostel to take you to the place however since there were only two of us, we just went there by ourselves. We hailed a bus on the highway that took a 20-minute ride going to the point where we could ride a habal-habal (a driver with a motorbike) that would take us up on the mountains and into the lake.
When we rode the bus, we didn't really know if we could just see the sign to take us to the lake. However, we inquired from the conductor to halt the bus whenever we would reach the landmark. The conductor told us that it's not hard since there's a big sign on the highway that will tell you where you can drop off. Here you can actually see the Twin Lake Signage just beside the road.
Usually, you can take an off-road vehicle so that you can drive your way up the mountains to the lake. But we didn't have wheels so we hired a bike instead. It takes 45 minutes for you to reach Twin lake from the stop-point from the highway but that also depends on the speed of the bike.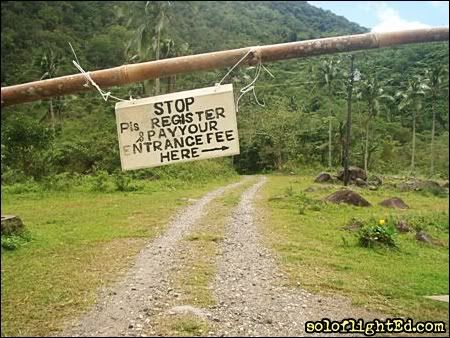 stopover
I thought the road was really crazy but it wasn't that tough. We did encounter some stones and rocks, ground and gravel but the ride wasn't rough at all. We stopped over in order for us to register our names and then pay the registration fee. We took some pictures of the place as it was very well set that I thought that the body of water beside it was the actual lake. It was just a prelude on what we were to expect later on. But the stopover for registration was already a nice place to have a picnic.
When we reached the place, we had to walk some more steps down to get to the body of water. We got lucky because when we reached the lake, there was a local travel show (ABS-CBN's "Trip na Trip") that was featuring Dumaguete for their next episodes.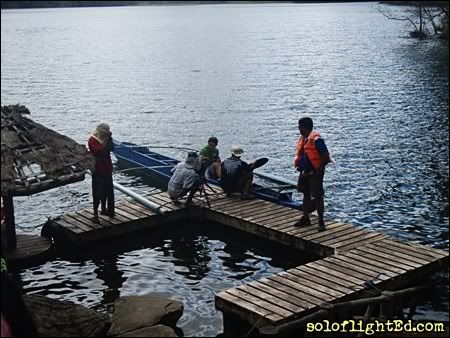 on the left is Jason and some crew.
I got to see Kat de Castro and Jason from PBB do some spiels and I saw the cameramen and the setup as well. I am inclined to media and I like to work behind the lens one of these days that's why I made all the fuss. Anyway, I wanted to have my picture taken but we were shy so we passed up the opportunity.
reaching the center point between the two lakes. on the rightmost is Lake Danao (the other side)
We paddled our way to check out what's in the other side of the lake. It was pretty tiring too, we thought it was just near but it's actually far. You also have the option to just trek to the other side but we didn't really want to as the trail isn't as visible as it was. But we did see some foreigners/adventurers who really opted to hike to the other side.
We left our valuables to the folk which is a bit of a problem for me since I was hesitant to leave my belongings to them. But what the heck, I didn't want to lose my gadgets in case we would trip over. When we got back though, everything was intact which is really great.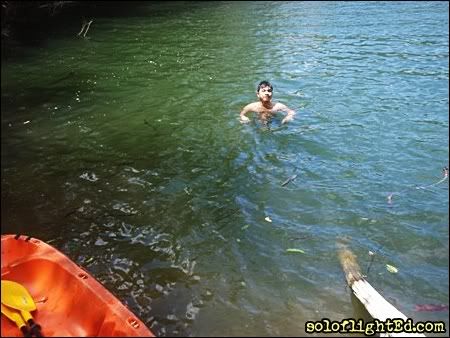 The water was cold! haha-> like that's a surprise.
I went for a swim to satisfy the water-lover in me. I had to; it would be totally useless if I were to go there and just stare at the green water. Doi just sat and watched me while I enjoyed myself. In any case, if you haven't brought anything, you can still dry your clothes on the motorbike ride back to the highway.
It would be great to go to this place out of the blue with a group of friends and just go for a dip just because you feel like hanging out and chill with the cool air and some bottles of beer. Since we didn't bring in some booze, I just dove countless times.
I just want to create a How to Guide to get to Twin Lake since my How To Guide in the Caramoan islands did help a lot of people in some ways. Click on the pictures to enlarge a bit.
Expenses:
P20 – Bus Fare from Dumaguete city to the Stop-Point (20 minute ride)
P200 per person – Motorbike ride (back and forth – each trip is about 40 minutes long)
P10 – Entrance fee to the lake
P100/hour – Kayak Rental (they also have a small boat but I forgot the price. hehe)
Please don't forget to confirm your subscription by checking your Inbox.
---
soloflightEd.com is a travel blog by Edcel Suyo. He enjoys performing headstands and crazy stunts during his trips in the Philippines, Southeast Asia, and the Middle East. Now based in Dubai, United Arab Emirates and working to earn a living, he takes time to enjoy the city and travel during weekends.
For updates, Like his page on Facebook or Follow him on Twitter.
For questions, advertising, and other concerns, shoot an email to ed@soloflighted.com.

---