We went to MEPZA in Lapu-lapu cause there was a trade fair going on that sold cheap stuffs. I had nothing to do on a Sunday that I joined some colleagues and visited the place. I was able to buy some bags for school. A bag for my clothes as I have to endure one more semester of Physical Education (basketball and volleyball) and a waste bag so I can just strap it on and put my wallet, camera, cellphone and some pens in it.
When we were on our way to the Terraces to have dinner, we passed by the New Bridge in Mactan. Doi said I should get my picture taken while she was putting the car on hazard mode. Audrey took this shot while I was making a fool of myself.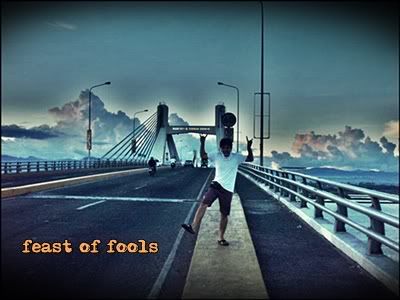 Please don't forget to confirm your subscription by checking your Inbox.
---
soloflightEd.com is a travel blog by Edcel Suyo. He enjoys performing headstands and crazy stunts during his trips in the Philippines, Southeast Asia, and the Middle East. Now based in Dubai, United Arab Emirates and working to earn a living, he takes time to enjoy the city and travel during weekends.
For updates, Like his page on Facebook or Follow him on Twitter.
For questions, advertising, and other concerns, shoot an email to ed@soloflighted.com.

---