During the first weekend of my business trip in Manila, since Enchanted Kingdom was closed at that time, we went to the famous Serendra at the Bonifacio High Street. Actually I'm a bit confused as to which street and where it is located but because we had really good hosts, Titus and Cecil toured us around the place. I'm very thankful that we had them cause we saved a lot on transportation as well as we didn't get lost in the process of going to places. I appreciate the effort that they went out of their way just to accommodate us.
What I like about the place is its friendly atmosphere. Being an Ayala land, you can expect that the landscape, design, structure, architecture (whatever you'd like to call it) is nature-friendly.
What I did notice is that there were a lot of dogs at the place which are well-groomed that people, particularly the upper class can just show off to other people as well. Dogs are the celebrities here that's why I'd rather be a dog in Serendra. hehe
Serendra
Bonifacio Global High Street

Serendra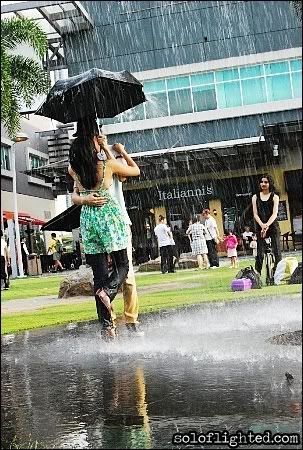 kissing under the water

It's a dog's life. According to one bystander: "Mabuti pa yung aso, naka Burberry"
Please don't forget to confirm your subscription by checking your Inbox.
---
soloflightEd.com is a travel blog by Edcel Suyo. He enjoys performing headstands and crazy stunts during his trips in the Philippines, Southeast Asia, and the Middle East. Now based in Dubai, United Arab Emirates and working to earn a living, he takes time to enjoy the city and travel during weekends.
For updates, Like his page on Facebook or Follow him on Twitter.
For questions, advertising, and other concerns, shoot an email to ed@soloflighted.com.

---