As you might not already know, I went to Manila for another business trip. I helped out another site as POC. It 's a good experience since I wanted to prove my worth. It's a bit daunting at times but I know I should look at the brighter side, I get to travel! It's already a feat for me since I've been given the responsibility.
Went to UP Science Park since that's where the site is located.
The travel to Manila was extremely stressful cause when I got to the airport and had my e-ticket exchanged for a boarding pass, that's when I realized that the routing was incorrect. The flight was bound from Manila to Cebu, not the other way around. I felt embarrassed because I prepared myself to be ready at that time but lo and behold, the mishap made me look like a fool.
I just called my boss and had to go back to Cebu proper to have the ticket changed through the agency. So the flight was rescheduled and I had to go back to the airport in the afternoon (all the while I had no sleep!) until I could fly to Manila. The Philippine Airlines trip was delayed by an hour and it was raining hard at the time. I hired an airport taxi to take me to the hotel and I arrived at 8pm. It would've been good if I had to rest directly but NO, I still had to go to work at 10pm! So I excused myself to be a little bit late.
The management greeted me when I got back to the office and I saw some familiar faces when we last dropped by Manila. However, all of them looked so fresh and dressed up whereas I looked so tired and beaten because of the stress. My eyes were bloody red because of the lack of sleep but I still had to be on duty.
Anyway, took pictures of UP Science Park and had fun. The place is still new, I wish newer establishments were put up. Considering that this land was developed by the Ayala group, you can expect the landscape to be really good and nice.
UP Science Park
Ayala Technohub
Quezon City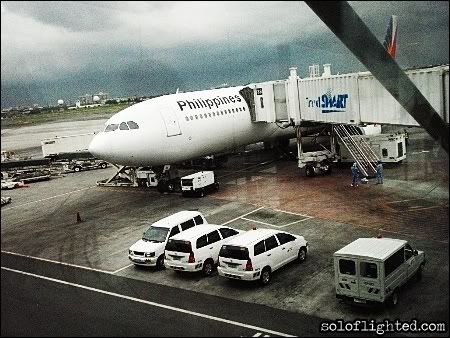 Manila airport, taxi to Quezon

another one

UP – Ayala Land Technohub
Please don't forget to confirm your subscription by checking your Inbox.
---
soloflightEd.com is a travel blog by Edcel Suyo. He enjoys performing headstands and crazy stunts during his trips in the Philippines, Southeast Asia, and the Middle East. Now based in Dubai, United Arab Emirates and working to earn a living, he takes time to enjoy the city and travel during weekends.
For updates, Like his page on Facebook or Follow him on Twitter.
For questions, advertising, and other concerns, shoot an email to ed@soloflighted.com.

---