as posted on my previous entry, i'm going to blog about my trip to my old school when i was still in dumaguete. and this entry is dedicated to

nix

, since it's also been a long time for her to see the school where we met. had a lot of memories from this school. spent most of my highschool life here. and we all know what highschool means.
just a little history, correct me if i'm wrong nix,

history

's been my hatest subject. anyway, st. paul university (when it was till our time, t'was still "college") of dumaguete is where all the other Saint Paul schools in the philippines started. so that's probably something to boast about. hehe. founded in 1904 by the seven sisters of saint paul of chartes (it's all about the nuns, it's all about the nuns) who planted the first seeds to build a strong foundation that'll help other people and to somewhat (i think) counter silliman university, since that school is founded by protestants (1901). and that's all i know. hehe. if you want to ask me about their standards or how i view their kind of teaching, just give me your email. i might sound harsh. haha. seriously, i can't say that i'm very proud of my learning experience there, i'm just happy coz this is where i found some wonderful memories that i'll truly cherish.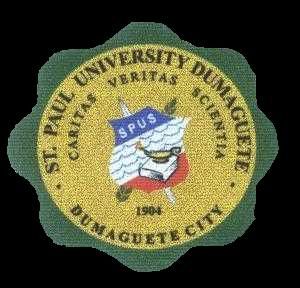 ST. PAUL COLLEGE UNIVERSITY OF DUMAGUETE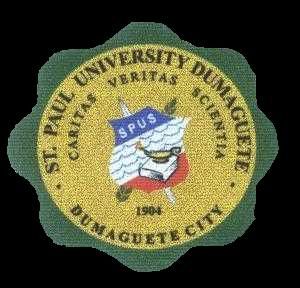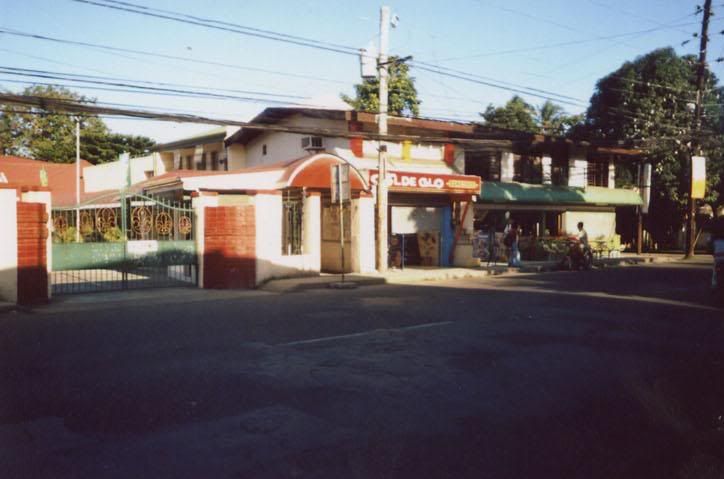 .highway, just a two-way lane.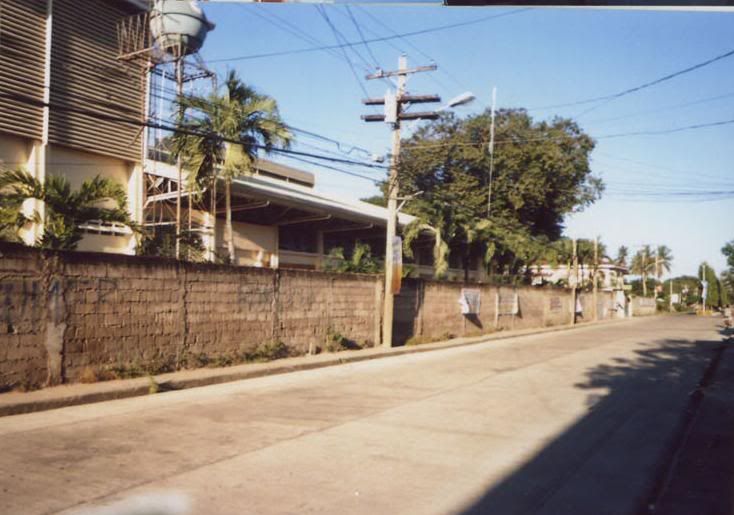 .where i usually walk (more like run) when going to the highschool department early in the morning. was standing at a friend's house when i took this shot. just a stone's throw away from school, no wonder she's always late. (haha. peace!).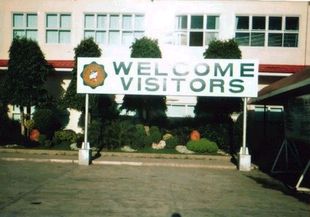 .am welcomed after all.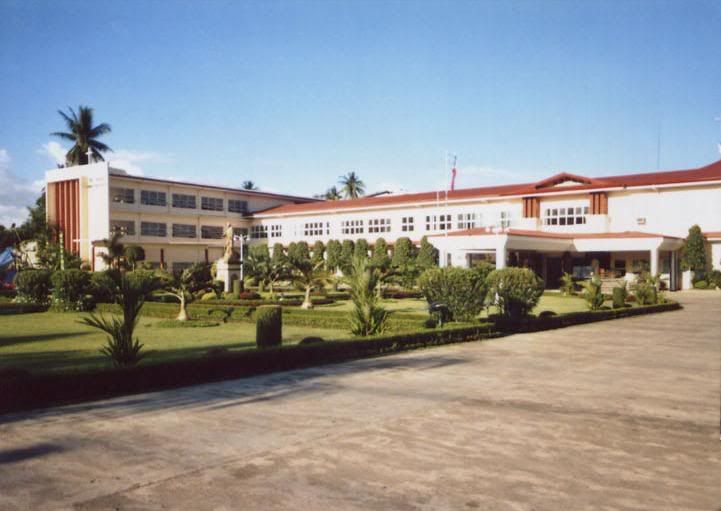 .should see this at night. looks like a memorial park.
.don't really like this shot.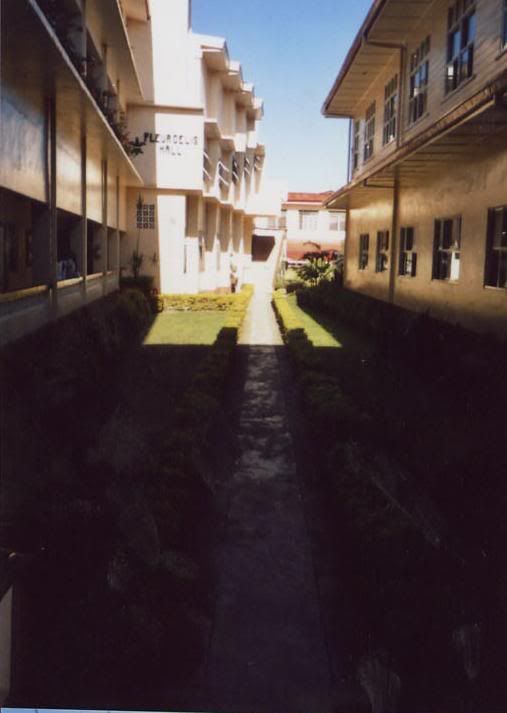 .much more this. damn shadow.
.had a mini-tour here. so cool, coz it's like a tiny museum of memories. of how this school became it as is.
.was a wooden bridge before.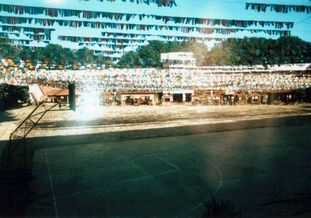 .post-centennial celebration. the week before i shot this, t'was a crowded place packed with the school's alumni and etc., and i wasn't there.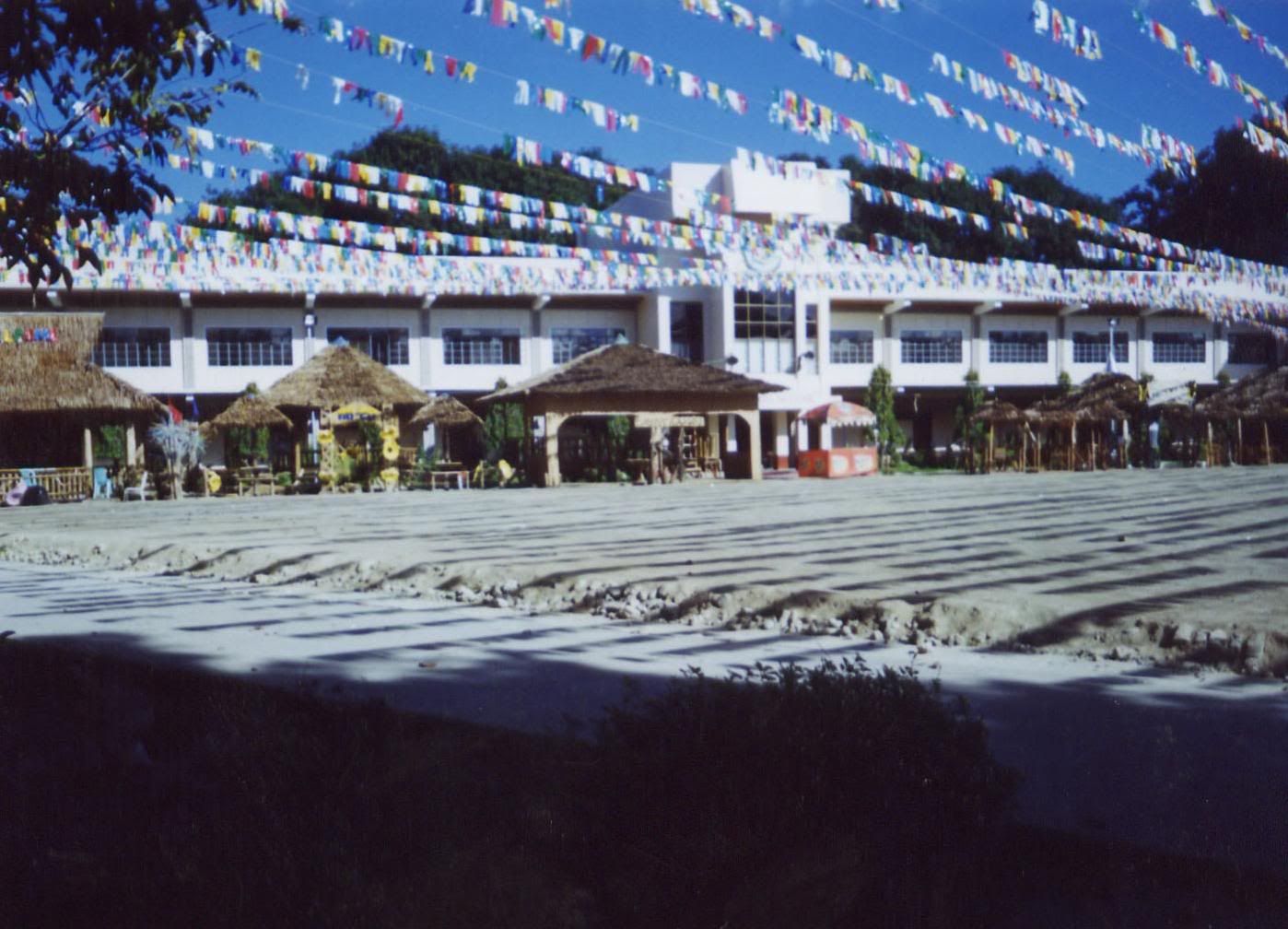 .haha, they tried to grow some bermuda grass on the field. on a school ground? people step on it! sheesh.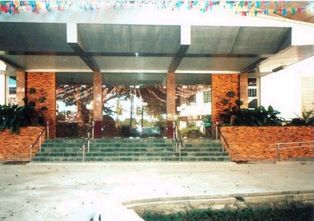 .multi-purpose hall.
.St. Luke, my section .front of our classroom, now it looks like a jungle.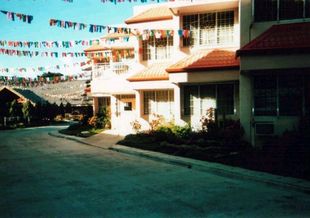 .girl's dorm, where nix sleeps (rarely… party animal! haha. peace) when she was still a junior.
.back of the highschool building. more importantly where i spent most of the time with my co-COCS trainees crawling, doing push-ups and eating dust and sulking up to our officer's rantings and ramblings when it's formation time.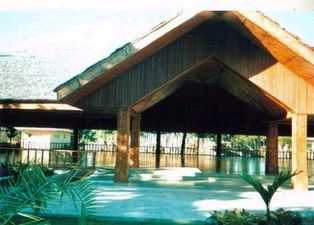 .function hall.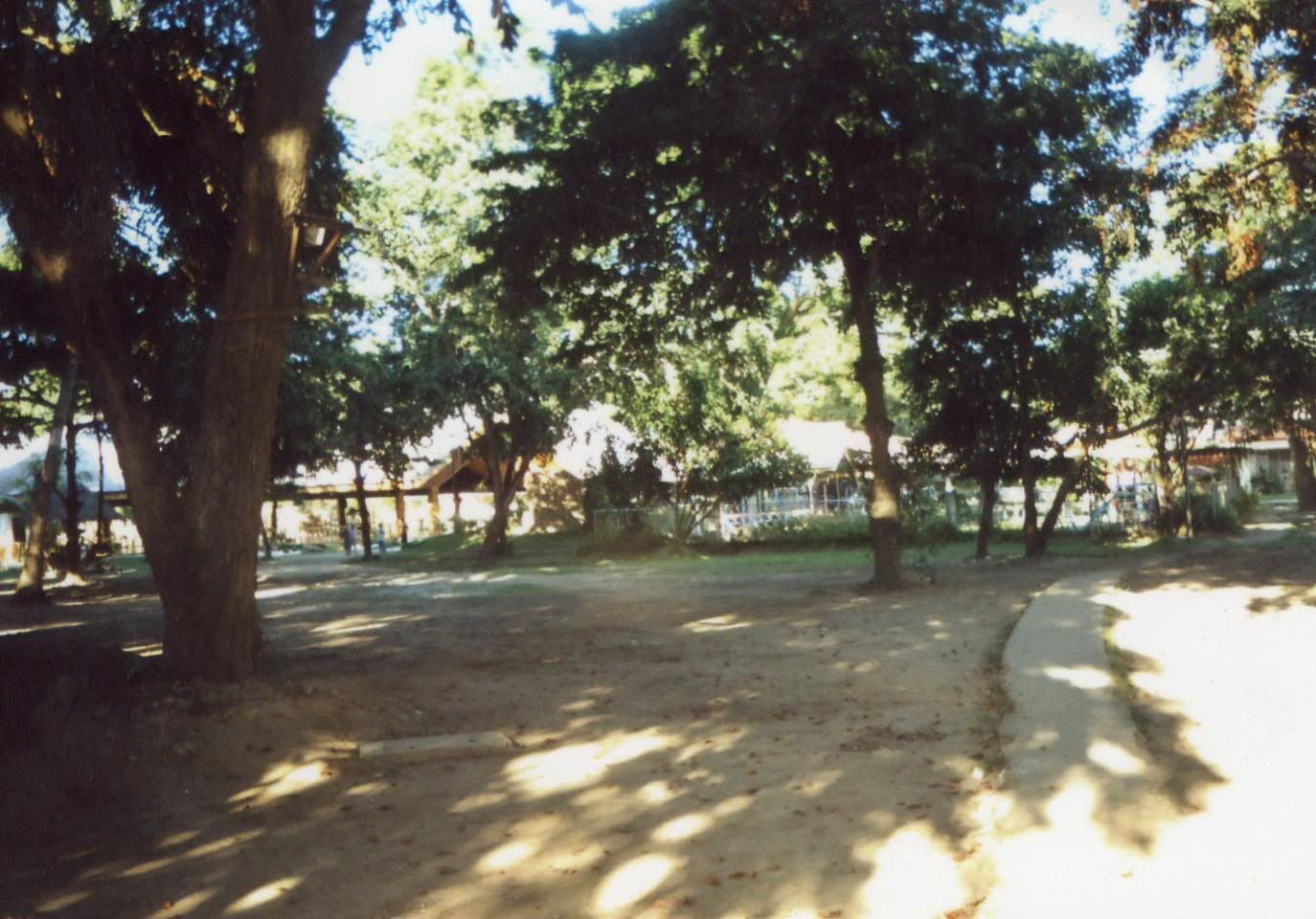 .this a school? looks like a forest to me. lots of trees means lots of mosquitoes. mosquitoes means dengue. -enough-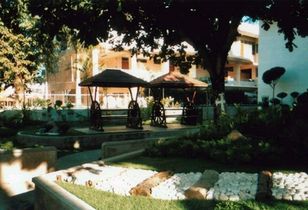 .most favorite. so peaceful.
had a somewhat hard time with the pics, positioning myself and all. haha. good thing my background's black. well, after walking back and forth, i've realized that it really wasn't the same as before. the trip was also just a something to push me forward. it wasn't as it used to be. the magic was gone. coz instead, another kind emerged.
was amazed of the awesome changes of this school. a lot had been improved. that's because of the centennial celebration that happened. i mean it's only a hundred years. am just sour-graping since we were the last batch that graduated with the word "college" still in our diplomas. after that, everything gradually upgraded. everything was new. now who wouldn't get jealous of that? bah humbug. (is the spelling right?). welpz… change is inevitable. life must go on. good day or night!
posted Wednesday, 10 November 2004
A visitor made this comment,
someone's been having fun with his cam. haha. nice shots!amia
comment added :: 17th November 2004, 20:07 GMT+08
nicole

made this comment,
lol yup quite a budding photgrapher!take care ed
nicole
comment added :: 18th November 2004, 04:54 GMT+08
Nix

made this comment,
napaiyak ako! anyway, ed, saan ba yung last shot mo? d ko matandaan!
comment added :: 18th November 2004, 09:34 GMT+08
Nix

made this comment,
and ed, i thought gale's cousin was pregnant…
comment added :: 18th November 2004, 09:48 GMT+08
A visitor made this comment,
"and we all know what highschool means"…agree with you ed. we all know we 'start growing up in highschool'. nice shots lil bro.

Paul


comment added :: 18th November 2004, 21:37 GMT+08
CNBGirl

made this comment,
yung picture with the caption "don't really like this shot", yun ang gusto ko. :Pabout the quote, sinabi ko pala yun! 😉
comment added :: 19th November 2004, 07:49 GMT+08
edandhisdarkgreenlife

made this comment,
amia: hehe, adik nga talaga. haha.nicole: puthaw! haha. thanks!nix: on which part? the last shot was beside the chapel, you know, where the study tables used to be??? talk about drastic change huh? and your last q, which one? ;ppaul: thanks. frustrated photographers unite! haha. true, true. ah highskul.cnb: about the shot, just hate the angle. glad that you've seen the quote. 😉
comment added :: 19th November 2004, 11:09 GMT+08
A visitor made this comment,
asteeg. sarap talaga mag trip down to memory lane. ;)high school will always be high school. ;)drei
comment added :: 19th November 2004, 18:38 GMT+08
ravissant

made this comment,
i haven't heard the song that's playing here(these are the moments…) for so long. i love it!!! i wish i finished highschool in iloilo w/ my best friends. didn't really liked my highschool years here in vegas. walang arte talaga!
comment added :: 20th November 2004, 10:17 GMT+08
A visitor made this comment,
natatawa ako sa sarili ko. kahit kasi katapat lang ng present school ko ngaun ang hs ko, d ko p rin dinadalaw. hehe! oh well. i actually am not fond of trips down to memory lane.yeah, i'm weird.
sedricke
comment added :: 20th November 2004, 15:06 GMT+08
edandhisdarkgreenlife

made this comment,
drei: true, so true.ravissant: gud that you've heard it again! haha. sad to hear that, but as long as you still keep in touch with them is what matters most. (kanta na naman). =)sedricke: that's probably the reason why you don't visit your old school. lol. on trips to memory lane, i am. when you were able to create the image you wanted to project. and suddenly life has its way of taking it away. that's why you long for that image to come back to you. and you can't seem to do it, so you have no choice but just look back and wonder. that's where "moving on" enters. and you're not weird, i am. lol
comment added :: 23rd November 2004, 18:32 GMT+08
Please don't forget to confirm your subscription by checking your Inbox.
---
soloflightEd.com is a travel blog by Edcel Suyo. He enjoys performing headstands and crazy stunts during his trips in the Philippines, Southeast Asia, and the Middle East. Now based in Dubai, United Arab Emirates and working to earn a living, he takes time to enjoy the city and travel during weekends.
For updates, Like his page on Facebook or Follow him on Twitter.
For questions, advertising, and other concerns, shoot an email to ed@soloflighted.com.

---