Still trying to make some sense out of time, I just turned 20; and never has pressure been so transparent. Pop married my mom when he was this age and already started a family. That's why I'm really apprehensive with regard to relationships and the like. Cause look at us now. I'm still dazed of looking beyond with a family cause I can't even fend for myself. I'll grow more insecure in the future, but in the mean time, I have to take a risk. Had a conversation with a former teammate, we call her 'mama' cause she has a daughter:
me: Hi mama!
cherry: Wow, ed. You're 20!
me: I know, and work doesn't seem so exciting anymore.
cherry: Why?
me: Because it's already obvious that in you're 20s, you should have a job already.
cherry: Even so, and what does that make me? I'm already 27, you're grandmother?
me: No, just that I'm also pressured.
cherry: Pressure?
me: My father got married when he was my age. And… —didn't let me finish—
cherry: Yuck! Get away from me!

Somehow, working an 8 to 5 shift doesn't seem so unique anymore. Despite having gotten this job barely 5 months ago, it doesn't come up as a feat. Though I acknowledge that I couldn't wait to get out of the "teenage" phase , it seems odd having this crisis. Probably because I was never really able to fully enjoy my post-adolescent years: drinking, partying, jamming and some more drinking. Memories I have to sacrifice because I started work early. Not that I had much of a choice anyway. Work and earn myself a living? Or die starving? A no-brainer even if you don't ask.
Now, I can't get away for any misgivings I will be doing. No more excuses ed. No more reasons to make a fool of yourself. Make a move.
Night shift: It's still hard adjusting, some of my coworkers are about to resign, due to age differences and weariness; since they have already passed the minimum months for the bond to expire. Scenes are so momentary, people come & go so easily. Good thing I don't get involved with emotions as much as I used to. Besides, no regrets.
On my end, I still don't have any problems, yet; so long as I could just enroll this semester.
———————————————————————————————————–
Sing, skim, soak, sand, sun & burn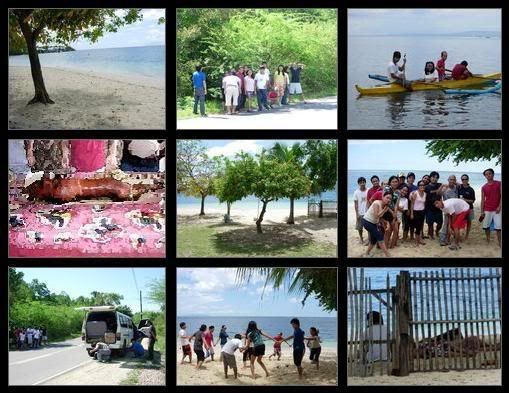 I was able to attend a team outing activity with colleagues at work. T'was my first time to sing using a videoke, those sarcastic 5-peso hoarding machines mentioning how "great' you are as a singer so long as you could shout using your lungs. Not that I didn't fall for its comments. hehe. Got to skim as well, first time; exhausting at first but nevertheless, contented in the end.
Two things I realized after: I forgot how I love the beach & I forgot to wear sunscreen. Really toasted myself from those rays, and didn't even bother to wear some protection. Skin got so red, it wasn't fun anymore. Never, never again ed.
———————————————————————————————————–
I suddenly realized that I've been blogging for 3 years now. Time flies; still, nothing's new.


spoke (6)
1. wideye left… Tuesday, 26 September 2006 11:34 am :: http://wideyeshut.livejournal.com/
asa ni dapit nga beach? shet, kalami anang lechon oi. :))
2. ravissant left…Friday, 29 September 2006 12:14 am
belated happy 20th kag happy 3rd blog-aversary! patas lang ta kay daw panit ka puti nga tao ako bala mo. i'm still peeling like hell! ikaw ba yan kumakanta? ganda ng boses mo! ;P
3. ed left…Saturday, 30 September 2006 8:11 pm
wideye: alcoy, not too wide, pero ok na kasi kami lang ang nasa beach. 🙂
rav: ha, no it's not me singing! hehe.. it's a band called 'the ambassadors' here. i'm getting addicted to bisrock music. hehe. thanks. ;p
4. nix left…Tuesday, 24 October 2006 5:09 pm
Oist. Tempus fugit. But anyway, we're missing you here. Founders day na and people are coming home. Wish we could see you…
5. ed left…Tuesday, 24 October 2006 8:11 pm
nuke, was planning to visit there today, i even had a scheduled VL, but i have to enrol this sem. 🙂
6. nicole left…Sunday, 29 October 2006 1:59 am
wow happy birthday ed! 20 ka na 😀 good luck with everything!!
nicole
Please don't forget to confirm your subscription by checking your Inbox.
---
soloflightEd.com is a travel blog by Edcel Suyo. He enjoys performing headstands and crazy stunts during his trips in the Philippines, Southeast Asia, and the Middle East. Now based in Dubai, United Arab Emirates and working to earn a living, he takes time to enjoy the city and travel during weekends.
For updates, Like his page on Facebook or Follow him on Twitter.
For questions, advertising, and other concerns, shoot an email to ed@soloflighted.com.

---