Day 3: Tuesday
April 01, 2008
Had an appointment with Alex (trainer), first thing in the morning, I was going surfing! I wanted to try it out since I didn't want to visit Siargao without even stepping on a surfboard. I mean, if the beach was just my sole purpose, then I'd rather go somewhere that I've never been to here in Cebu. So there I was, surfing (more like drowning).
I don't know how many times I slipped from the board, but I can tell you how many cuts were on my feet (six) because of the pressure on stepping the stones and corals after falling from balancing on the board. But it was exhilarating to finally be able to ride a good wave and stay on the board, at least even once. Too bad some people weren't able to take some decent shots of me as they were also busy having some pictorials of their own. hehe. Anyway, at least I learned; I think.
After the first 30 minutes, I wanted to quit and shell out the money already as I was dead exhausted and panting from the routine. Good thing the trainer told me that we could rest. I gave me time to recover from the strenuous practice. I could feel some spasms already developing.
Now I realize why surfers are well-built, as they really need to catch up with the waves and lift their bodies in order to keep up and ride properly. Next time I plan to try to surf again, I should be prepared physically as it's really draining. I have to get rid of fats, exercise more and shape up; yeah right.
500 Php/hour – Trainer's fee with the surfboard
300 Php – surfboard rent for the whole day, but it's only on the place we were staying. Usually it's around 500 Php for other resorts.
I still wanted to stay at the place but we had to go already. We dropped by a boulevard where we found another beautiful spot to take some more pictures as there was a long stretch of white sand. I wished we could stay longer but it was really hot already and that my skinhead's (???, hehe) burning from the heat.
(click to Enlarge)

Alex teaches the basic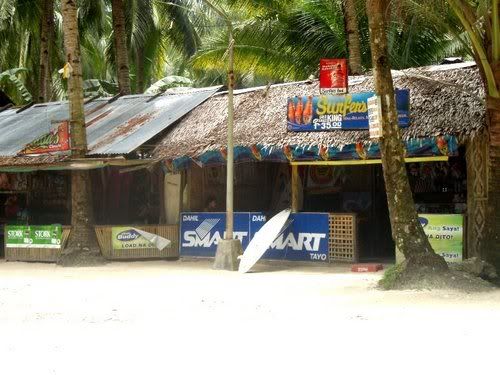 surf store

Watchers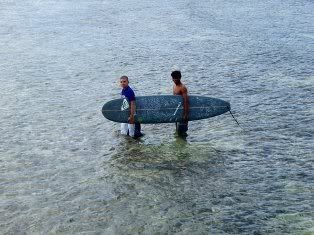 the only shot. huhu

bridge

subject

gas

sunset again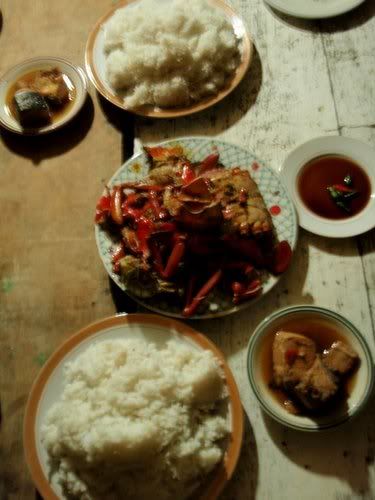 fresh crabs for dinner!
Please don't forget to confirm your subscription by checking your Inbox.
---
soloflightEd.com is a travel blog by Edcel Suyo. He enjoys performing headstands and crazy stunts during his trips in the Philippines, Southeast Asia, and the Middle East. Now based in Dubai, United Arab Emirates and working to earn a living, he takes time to enjoy the city and travel during weekends.
For updates, Like his page on Facebook or Follow him on Twitter.
For questions, advertising, and other concerns, shoot an email to ed@soloflighted.com.

---