"goodbyes are tough, but they make the next hellos so much sweeter. ;)"
—cnb
was so glad that i was able to go back to dumaguete. but i didn't want to tell anyone until i was actually there coz maybe our plan wouldn't push through. when it did, and we were already in a 2 and a half hour v-hire ride, i couldn't fight the urge of texting some special friends about it. sad to say at that time, there was no signal. bummer. i couldn't conceal the excitement i was feeling. only to find out that i forgot to take some pills to help me get the nauseousness inside my head and stomach out coz i get sick easily when it comes to road trips especially in airconditoned vehicles. or are these pills just placebos to fool the mind? added to the fact that my seatmates were a Japanese father (who kept answering his phone with me laughing everytime i here him say:"Mushi, mushi?" -reminded me of the Mtv ad-). And the one on my left was big, BIG brother whose arm was rested on shoulders (felt like i was supporting an infant). anyway, rode a 30 minute-ride pump boat to get to Sibulan (i think 5-7 km from Dumaguete).
now why the sudden travel? aside from wanting to catch up on friends, we had to process some requirements of my younger siblings' Form 137 coz our situation regarding our school's transcript of records is a whole lot of mess. and to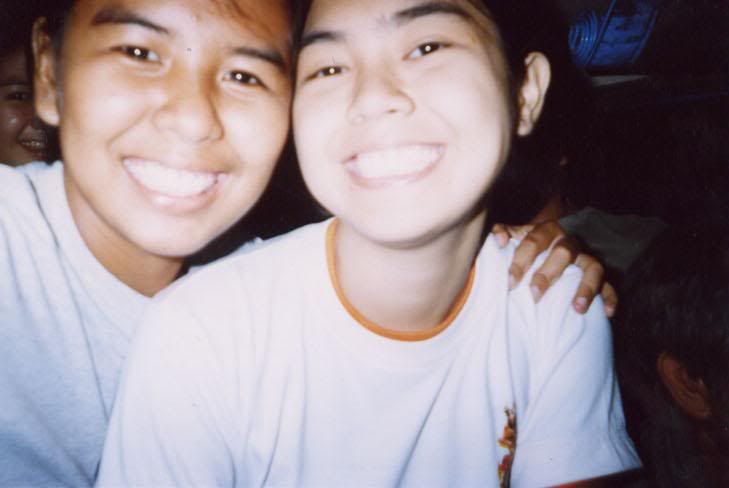 also bring some tools my father ordered for. multi-tasking, when you put it in another way.
being in st. paul again, i went back to memory lane, and forgive me if you've had enough of my "reminiscing" state. since it was still their semestral break, sort of had the school all by myself which made it even better, though there were a bunch of enrolees. anyway, i'll blog about this after since the pictures are too many that i can't seem to accomodate them in this entry.
called my friends after in which one of them offerred us to stay in a spare room for rent out of there house; for free of course. and since i'm a thick-faced candid maniac, we took it. and i only have kind words to my alter-ego and her family, thanks! thanks a million!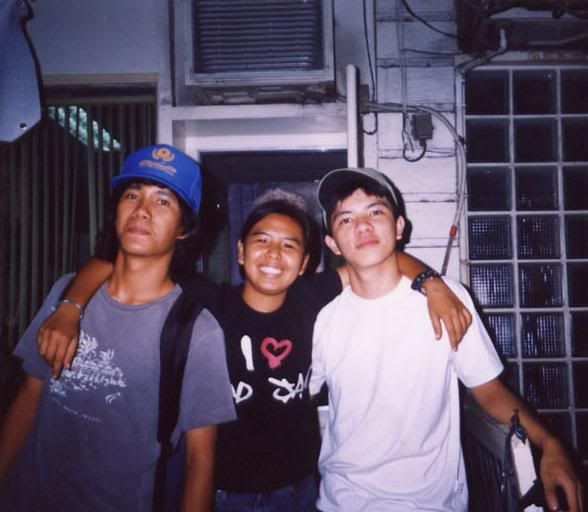 t'was already 5pm or so when rolica and xyra (got acquainted through Friendster which i haven't opened for a month, but recently did coz i wanted to see some pics) arrived. went to their friend who was in a salon while rolica and i, stayed outside.
called the b-day boy omar and luckily circee was their too. we met up and exchanged how are you's. they wondered how long i was going to stay there. told them that i'd be leaving the next day, lunch time. asked me if it would be possible to move it to midnight since he'll be celebrating it on that day. well, we strolled in silliman and talked about how many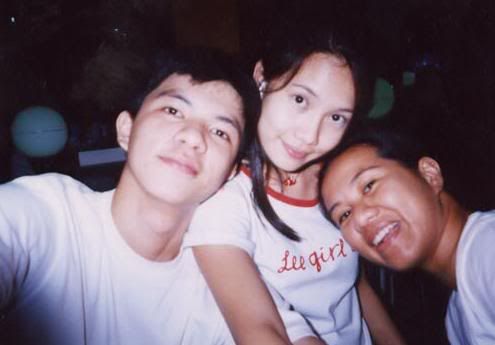 were already pregnant in our batch, in which i said, i need not be surpised coz it's already a normal thing. they just did it ahead which makes the difference; sex, i mean. nice to have those simple yet with sense conversations i've had when i was still here.
went to Scooby's (a fastfood joint) after bidding goodbye to the b-day boy. were there sitting until a girl passed by the glass panel of the store. called out her name and indeed, it was gale! boy did we make a scene there coz of our hellos. haha. chatted, again. seemed like everything was going fine. loved that i was able to see and be with them, again.
had a prayer meeting which rolica (who invited me). walked along the boulevard while making a stir among the people we passed by since we did some more snapshots. boulevard is very beautiful especially at night.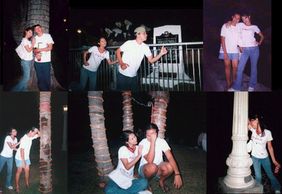 was late in attending the meeting, but it's better than never. had some funny moments too at the lobby of the hotel.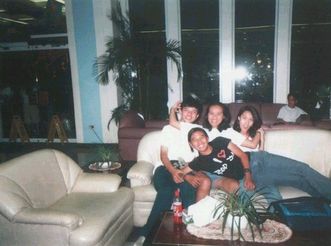 next stop was City Burger (a kamayan restaurant). we had to fetch my alter-ego back at their house. when we got back though, gale and circee who ordered (Note:ordered) ahead, already gobbled up their plates. funny how they described that they couldn't resist eating ahead coz they were so hungry already. joined them and we laughed our hearts out of our shallow conversations. funny movies (feng shui included) and answers of contestants in a noon-time show:
"Circee"
Host: Ano ang pambansang ibon?
Contestant 1: Philippine Eagle!
Host: Mali! Ang huling letra nito ay 'A'.
Contestant 2: —thinks hard—
: Philippine Agila!
Host: Hindi! Nagsisimula ito sa letrang 'M'.
Contestant 3: Manok!
Host: Mali!
Contestant 4: —thinks that it must be a trick question—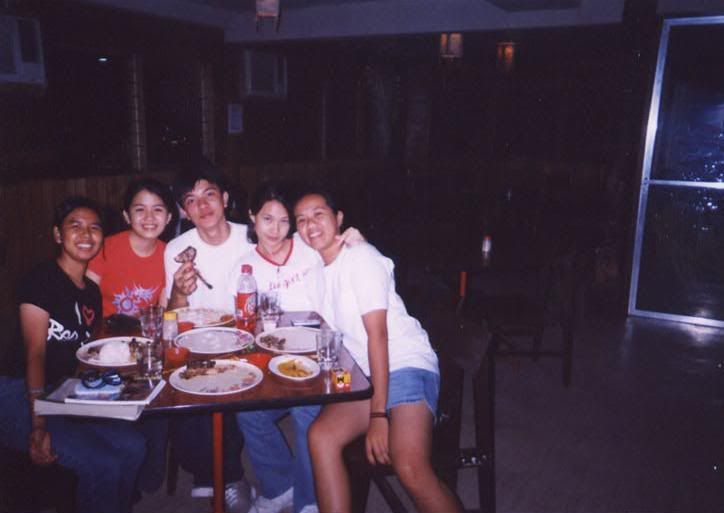 : Pritong Manok!
Host: Ano ba toh? Ba't naging pritong manok? Sinabing 'A' ang huling letra!
Contestant 5: —looks excited as if he knows the answer—
: Manoka!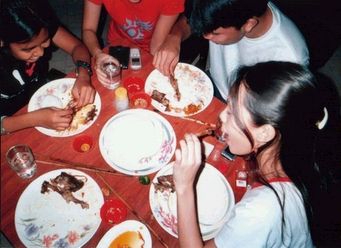 it may not sound funny, heck it may look corny, but it's hard to tell the tonation of the one speaking and where the punch lines go, still, bear with me and i hope you got it. speaking of
manok, we were famished with what we ate and we still weren't through with our talking. unfortunately, the store turned some of the lights off, signaling that it was time for them to close. checked the time, t'was 20 minutes after 10 (damn, whatever happened to:"no need to worry about curfews coz we were of legal age already?) but before you can say that we're heartless young teenagers not giving a care in the world just to satisfy our thirst for fun, we did understand them and that we left.
after, mr. pessy and ms. opty went home to sleep, in their respective rooms, i mean. woke up, took a bath and got dressed. went out and walked for a little more than 60 meters on the road, with the sky still dark. passed by a bakeshoppe and bought some water. and when i checked at the time… 2:15 *whappak!* (got this one from the highwayman hehe). thought that it was around 4:30 to 5. i don't have problems regarding sleep and though my body ached for it, i found a hard time shutting my eyes back.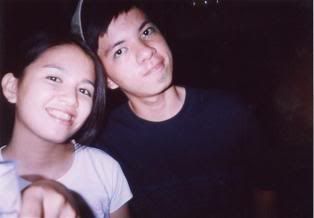 called my father and asked if i could push my departure 12 hours more:
me: pa, edcel ito.
father: kumusta yung pinapagawa ko?
me: may problema pa kasi wala pa yung principal. mmmm… pa… yang…
father: ano?
me: pwedeng… mamaya na lang kami uuwi? sa last trip na?
father: ok.
i didn't have to kneel and beg! haha… my parents are cool! mind you, they're also cautious. maybe they knew how much i wanted to extend my stay there. or there must be some force. a strong force. hehe.
sun rose, 7 am, joined stephanie to school. silliman is quite big when you're there. i don't know if UP-Dilliman's bigger or not (and i think it is, you can't find ikot and toki jeeps here). it's a 14-hectare lot, i think (just heard it somewhere). what's cool is that it's very liberating walking there along the hallways. nobody cares about each other that much, totally differrent from a catholic school. independency is its icing.
was lunch wh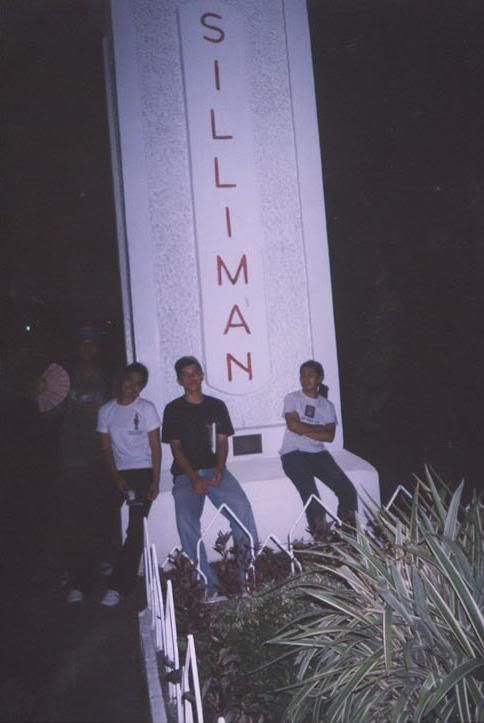 en i got the 1st batch of pictures developed. logged in an internet rental and guess who saw them first??? miss changing lanes did. nah, haven't got them scanned yet. since there was a webcam available so that's probably it. hehe. looked silly holding and positioning the pics to the cam on my left hand, and typing on the keyboard on my right.
met up with gale and alyson at three at the library. did a little drama just to get in since they don't allow outsiders to enter unless they pay a minimum amount. luckily, their was a tour going on by batch. tried to fit in and squeezed in the middle and blend. it was kinda hard becoz i looked too obvious, was the only one white there (honest!). but relieved that i got in! my impression of an ignorant-looking stranger was pretty believable, don't you think? haha.
got out and met with omar again and sat along the benches. underneath the warm radiance of the sky, the soft breeze of the wind, and huge green trees as my view; wondering when their leaves will begin to fall (a personal trademark that reminds me of this gentle place.) -sigh-. caught up with karl ed, the self-baptized "chickskiller". hehe.
went to Evermall. call it whatever you want but it didn't look like a mall to me. and dumaguete doesn't need one too. coz the environment's simplified. no need to make it sophisticated. but sometimes we do need some change. anyhows, i remembered a conversation about it:
"sometime before"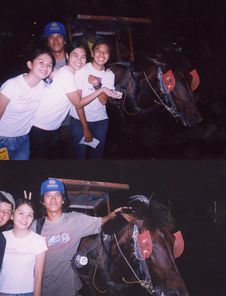 me: rol, musta dgte.?
rolica: ok lang. may mall na.
me: ows?
rolica: Evermall. at may tagline pa ako.
me: ano?
rolica: Evermall, the smallest mall… EVER!
"on ym"
me: nuke, just got back from dgte.
nix: what's new?
me: may mall na.
nix: what? Ever?
me: yup.
nix: what does it look like?
me: ok lang. looked like a hallway… hallway na may aircon.ate at chowking. only i don't have any pictures i can post, coz somehow, the most stupid thing happened. i lost the film. so stupid of me. 'nak ng… well, no time to go crazy, i'll get over it… someday. back to what happened: after eating, we thought we didn't have anything else to do. only to find out a parked kalesa afront. we rode of course. and it's a first time for me too. ah, so many things happened when i was there. good, clean fun. spending it with the people that matter most to me. although we did feel sorry for the horse who kept pulling and pulling while us making our own parade downtown.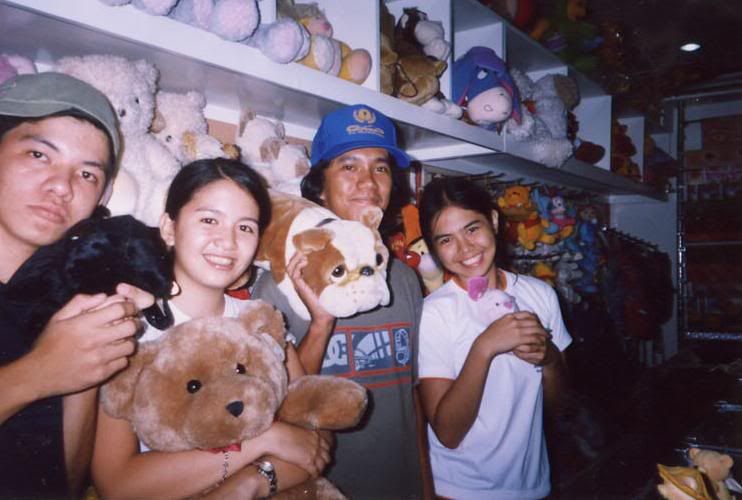 after riding the
kalesa, t'was time for goodbye. we separated ways already. but had to go to stephie's house to thank her mom. besides, i had to get her home. rode a tricycle and went back to boulevard, waited for awhile, then departed. and went home.
was happy. had the time of my life, even for a while. and even though there wasn't an instance when all of us, ALL were together (everybody had some commitments), was still thankful that i was able to spend time with them, especially since they had classes those days and they too had to live, they were able to stop by and say hi. and i'm forever in gratitude. another memory made to last, with good ol' friends and same ol' happenings.
—————————— —————————— —————————— —-
asked most of my friends if i can post their faces here in my blog. kept on saying too that it was just the net that i'm going to put them in. but none of them even bothered to think twice and that i can put as many pics as i want. and look at me trying to hide my identity. hehe
—————————— —————————— —————————— ——————
by the way, don't you just hate it that when you're about to end and you're just trying to edit and add the finishing touches of you're long entry (particularly this kind), the computer suddenly goes bonkers. and after checking it again, you found out that you've only saved half of it??? had to retype most of it. shoot.
posted Friday, 5 November 2004
amia

made this comment,
you're alive! haha. finally natapos mo narin entry mo lol.i used to complain a lot abt the computer goin bonkers while im writing. it used to happen a lot when i was still in blog-city. but because of it, when im writing na, i save it as often as i could even though 1 sentence lang difference.
have a great week!
comment added :: 14th November 2004, 12:11 GMT+08
A visitor made this comment,
i need to update my freakin' computer & i need to purchase a premium blog so it doesn't automatically die off on me. glad you had a wonderful time w/ your friends. take care!ravissant

ravissant


comment added :: 14th November 2004, 14:10 GMT+08
Nix

made this comment,
ahhhhh… sigh.
comment added :: 15th November 2004, 14:30 GMT+08
nicole

made this comment,
hi ed! at last an entry! i like the pictures looks like you had so much fun it's always such a treat to see old friends =)take care and please keep updating ok? lol
nicole
comment added :: 15th November 2004, 23:31 GMT+08
CNBGirl

made this comment,
mukhang enjoy ang dumaguete ha. :)and btw, hinde ko matandaan na sinabi ko yung quote na yun… hehe.
comment added :: 16th November 2004, 07:26 GMT+08
edandhisdarkgreenlife

made this comment,
amia: haha… eh sa blogspot inde na masyado bumabonkers ung computer? haha. double u! lol ba't mo nasabi yon??? kahit alam ko na, nakakatawa pa rin! lolravissant: elo! haha. ako ayokong gumasto ng premium blog. haha. :-)nix: u'll have ur time. =)nicole: ey thanks! more pictures to come in my next entry! pero it doesn't include our faces na. haha.cnb: haha. dumaguete is such a slow-paced city. ung krimen, konte lang syado. then masarap mabuhay, problema eh mahirap maghanap-buhay. *true!* hahaand about the quote:

click

😉
comment added :: 16th November 2004, 11:55 GMT+08
A visitor made this comment,
wow!!! cool! i was just passing by the other day, and didnt have time to read the entry,,, it not only looked fun from the pics,, it sounded really rocking from your story.. i bet that left loads of smiles and sighs in your heart.. ingatz lagi… old friends are hard to leave behind… ",)

samplawer


comment added :: 18th November 2004, 04:13 GMT+08
A visitor made this comment,
samplawer: salamat! appreciate it very much! naks. dami ngang smiles and sighs. same rin siguro sa pagpapakasal. ;)ed
comment added :: 18th November 2004, 14:44 GMT+08
Please don't forget to confirm your subscription by checking your Inbox.
---
soloflightEd.com is a travel blog by Edcel Suyo. He enjoys performing headstands and crazy stunts during his trips in the Philippines, Southeast Asia, and the Middle East. Now based in Dubai, United Arab Emirates and working to earn a living, he takes time to enjoy the city and travel during weekends.
For updates, Like his page on Facebook or Follow him on Twitter.
For questions, advertising, and other concerns, shoot an email to ed@soloflighted.com.

---