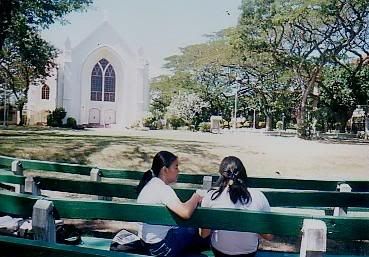 a little busy right now, with all the things going on. the first minute you're finishing your school records (excluding yours) which you did successfully that in turn, sacrificed a day of class (and major subjects for that matter); the next minute you're talking to a special friend about what's happening in your everyday lives and how it'd been. serious talk. the kind where both of you are waiting for someone so while being a little patient, you consume yourselves in an intimate discussion as if there's no tomorrow. just sitting beside one another, facing front and not each other. eyes staring in one direction, feeling as if in that moment, time had stopped. jesus i miss those conversations.
i have this feeling that i must numb myself from thoughts fleeting inside that lead to the point of depression. happy ones at that. i try to keep on telling myself that i've gotten over the fact that i'm not with the people i care anymore. cause in the past few weeks, i was. temporary happiness or whatever; well, it's better than never. what's with these rhymes? but i can't lie to myself. how long must i keep a happy face?
haven't seen 'eternal sunshine of the spotless mind' but from what i've heard, it's about an erasure of one's particular memory so not to indulge to thinking of the past. got this crazy idea, of doing that, erasing my memories so i can move on. but after twice-thinking, nah. i'd rather go for the numbing myself.
maybe it's because what happened to me on why i'm like this is i got separated from the place and the people i love when i was at my utmost bliss. i was a well-rounded person that (i think) didn't have enemies, people trusted or plainly liked me. a good student who also knew how to have fun. someone who tried to be friends with anyone, i was living a life. had no problems with drugs and the like (i still maintain my innocence by the way). oh yes, we were in deep shit financially, but that was the least of my worries so long as i kept myself busy, without thinking of the future ahead.
then i got disconnected. moreover at the time when i wasn't able to absorb things. i wasn't prepared. i may have said this before, but have you experienced being in a particular situation when suddenly, you got cut off? you didn't know what happened next? only you understood that you're away from the entities that made you who you are. when you're glad to reach and achieve the reputation you wanted but suddenly, it was taken away by the same reason why you were there in the first place.
the memories are still alive because i keep them, equally preserved in a scrapbook full of stories, wonderful ones too. now i feel like i want to throw it away a la ashton kutcher in 'the butterfly effect' so not to dwell in them anymore. yeah burn my scrapbook, but thinking again, it cost me a lot of time and money on an english project-turned-personal -journal that it seems a waste if i throw it away. she advised me to lock it or hide it somewhere i can't reach. so not to remind myself of the contents of its pages, nevermind if it had a lot of wrong grammars, at least i learned.
ah i'm not going anywhere. it's like the reason why charlize theron and keanu reeves went each others' ways in 'sweet november' (no pun intended) because she wanted to keep the memory strong so she can survive as she faced reality that she's going to die soon. but no, i want to do the opposite, i want to share every moment with the people i care for so i may grow tired of seeing and being with them. that way, i won't ever have reason to go back coz i'll realize that things do change, and we meet other people that'll probably keep our sanity or what's left of it intact for the next few years.
yeah, grow myself tired. numb numb numb. come to think of it, how can i numb myself if they aren't here? or better yet, if i'm not there? should i just be a miserable loner? forever? the rhyme's getting ridiculous. anyway, most of my friends have gotten over it. why can't i see the big picture? this is my weakness. therefore, i must overcome it. just don't know a proper and less violent way. and it seems i'm typing like i don't know what i'm trying to say. so i gotta end this one now. and oh, please, after reading this entry, don't make that consoling face. i just want to get this out of my system. kaya, ang saya-saya!
posted Friday, 11 February 2005
Nix

made this comment,
a good student who also knew how to have fun… -> you nailed it here… well, you were all that ed, a good friend, amazing student considering everything, and yet, you knew how to have a real good time… rare, so rare.
let us jsut try to help ourselves get over paradise friend, its been too long that we're stuck in limbo.
comment added :: 11th February 2005, 10:48 GMT+08
A visitor made this comment,
the distance! huhuhu.. sweet november! huhuhu… memories… LOLlonely hearts club na naman tayo! LOL.amia
comment added :: 11th February 2005, 11:28 GMT+08
CNBGirl

made this comment,
"I've become so numb I can't feel you there
I've become so tired so much more aware
I'm becoming this all I want to do
Is be more like me and be less like you"wala lang… :Pcyber inuman na lang tayo sa monday. hehe… 🙂
comment added :: 11th February 2005, 20:55 GMT+08
Shawty

made this comment,
yup CNB is right! so ed sali ka sa cyber inuman ok.ughhh i sugest you changed teenage angst.. hehehehe cge nagud ed try.. spontaneously driven common think of something ok hehehehe
comment added :: 11th February 2005, 21:31 GMT+08
A visitor made this comment,
nice pic:) huh?rols
comment added :: 12th February 2005, 14:48 GMT+08
A visitor made this comment,
=)dont take it wrong, thats not a consoling face but a smile. for being strong. of all the movies mentioned? I love the concept in the butterfly effect..nina
comment added :: 14th February 2005, 01:59 GMT+08
coleen

made this comment,
shucks, di ako pwede sumali sa cyber inuman…buntis kasi ako. hehehe…seriously, cheer up boy!
comment added :: 14th February 2005, 09:03 GMT+08
edandhisdarkgreenlife

made this comment,
nix, amia, cnb, shawty, rols: tagay na! lolnina and coleen: thanks!:-) lol
comment added :: 14th February 2005, 09:27 GMT+08
Please don't forget to confirm your subscription by checking your Inbox.
---
soloflightEd.com is a travel blog by Edcel Suyo. He enjoys performing headstands and crazy stunts during his trips in the Philippines, Southeast Asia, and the Middle East. Now based in Dubai, United Arab Emirates and working to earn a living, he takes time to enjoy the city and travel during weekends.
For updates, Like his page on Facebook or Follow him on Twitter.
For questions, advertising, and other concerns, shoot an email to ed@soloflighted.com.

---