It's 7am. I'm in an internet cafe here in Manila somewhere near Gateway mall. Got lucky to find one at this hour.
The past few days were pretty exciting and tiring at the same time. Just had an 8-hour bus trip from Naga to Manila. Eight effin' hours!
We went island hopping in some of the places in Caramoan and we also dropped by Camsur Watersports Complex (CWC). The former wasn't really as amazing as the latter. Probably because I already had my fair share of island-hopping experiences in Cebu but the CWC activities were a blast! I got to try wakeboarding (unsuccessfully) and their giant playground. Even if it rained in most cases, we still had fun. I know I need to take some pain relievers but that would take away not only the pain, but also the fun associated with how I got the pain (masokista ba?).
Will be posting the pics soon, once I get back to Cebu. My Our flight will be at 3:45pm so I still have some time to drop by Mall of Asia to buy some well-baked desserts from Chocolat. In the mean time, I have to deal with listening to Pokerface in this cafe.
A teaser picture that one of our new-found friends took in Caramoan. hehe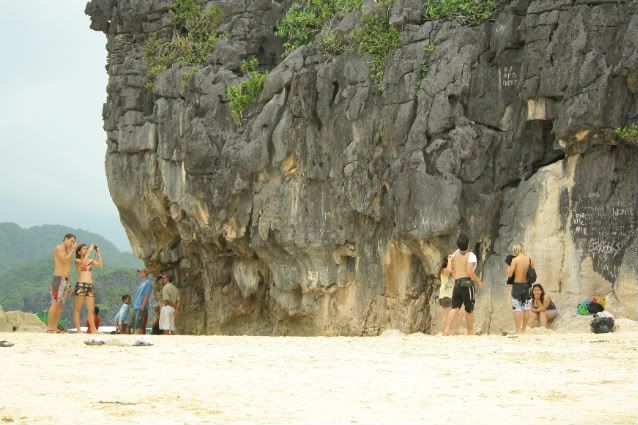 Please don't forget to confirm your subscription by checking your Inbox.
---
soloflightEd.com is a travel blog by Edcel Suyo. He enjoys performing headstands and crazy stunts during his trips in the Philippines, Southeast Asia, and the Middle East. Now based in Dubai, United Arab Emirates and working to earn a living, he takes time to enjoy the city and travel during weekends.
For updates, Like his page on Facebook or Follow him on Twitter.
For questions, advertising, and other concerns, shoot an email to ed@soloflighted.com.

---