One evening, my colleagues were planning to go to High Blood Station in Mabolo. I've never been to the place and they've been able to eat there a number of times so I decided to tag along.
High Blood Station has actually been termed as such by the people who eat there. There's no actual sign of the said title but you can expect a number of dishes that will satisfy your search for oil and grease.
Mind you though, people who frequent the place are those who have cars; but the homey feel also welcomes other people from all walks of life. It's the same as that of siomai sa tisa wherein folks flock just to have that feel of the region's best. Cebuanos sure know how to get the value for their money. Don't worry, prices aren't expensive and are just comparable to other local diners.
High Blood Station somewhere in Mabolo
adobo and curry I believe

glasses and condiments, banana in sweet syrup, fried chicken, bangus

tables, picked the binagoongang baboy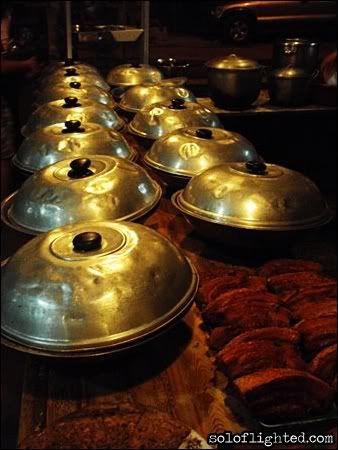 When we were about to pay our bill, that's when the lechon kawali arrived, dang.

last look, they're mostly open until the wee hours of the morning.
Please don't forget to confirm your subscription by checking your Inbox.
---
soloflightEd.com is a travel blog by Edcel Suyo. He enjoys performing headstands and crazy stunts during his trips in the Philippines, Southeast Asia, and the Middle East. Now based in Dubai, United Arab Emirates and working to earn a living, he takes time to enjoy the city and travel during weekends.
For updates, Like his page on Facebook or Follow him on Twitter.
For questions, advertising, and other concerns, shoot an email to ed@soloflighted.com.

---