Chocolat
SM Mall of Asia
(02)556-0188
When it was time for me to head back to Cebu during my trip in Manila, usually SM Mall of Asia (MOA) is one of the places where I drop by to kill the time before I head back to the airport. So, while looking through the booths in MOA, Doi and I planned to find a place to eat (a fastfood joint) considering that it was lunch time and we had to catch a flight.
There were a number of people in MOA and when I suddenly saw this Chocolat store, a small one sandwiched between other restaurants, I had to check out what it offered. I wasn't really so into cakes before, until Doi introduced me to some establishments here in Cebu and some in Calea in Bacolod. I got hooked because my sweet tooth just couldn't resist, and I never even thought I had one.
When we asked the staff what their best sellers are, they told us they have four. Chocolate Hazelnut, Bailey's, Death by Tablea and the Classic Chocolate Cake. Hearing the names of the cakes were already enough to get us intrigued and we couldn't wait to grab some bites so we could taste how good they were.
Doi bought the Death by Tablea (P75) and I settled for the New York Cheesecake (P95). Of course, we got to taste a bite of each other's cakes. The NY Cheesecake was really something especially when the graham crust melted in my mouth. As for the Death by Tablea, I didn't really expect it to be really good. Personally, I don't like Tablea because of its strong smell and I don't like drinking it but when I got to taste the cake, I couldn't just get enough of it! There's just the right amount of Tablea that leaves your taste buds after swallowing it that keeps you craving for the next bite. It isn't too sweet but it really gets you wanting to grab that fork and get another bite.
I added it with a strawberry smoothie which complimented the dark chocolate taste and sweetness of the cheesecake. I was already in heaven by then.
Check out their site at chocolatcakes.multiply.com. Click pictures to enlarge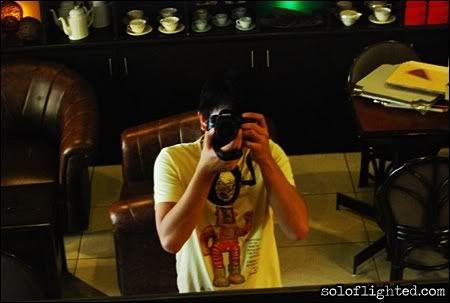 picture, my strawberry smoothie

NY Cheesecake, Death by Tablea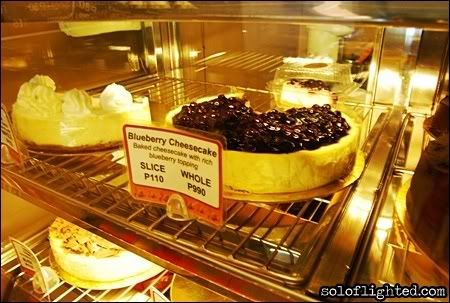 blueberry cheesecake and others

other specialty cakes in the fridge.
I'm planning to go back here. Definitely when I visit Manila again, hope they branch out to Cebu soon.
Please don't forget to confirm your subscription by checking your Inbox.
---
soloflightEd.com is a travel blog by Edcel Suyo. He enjoys performing headstands and crazy stunts during his trips in the Philippines, Southeast Asia, and the Middle East. Now based in Dubai, United Arab Emirates and working to earn a living, he takes time to enjoy the city and travel during weekends.
For updates, Like his page on Facebook or Follow him on Twitter.
For questions, advertising, and other concerns, shoot an email to ed@soloflighted.com.

---