Been binging a lot on food nowadays. Probably because of not having enough sleep, I'm now reduced to a slob.
Everytime I eat, it seems like I'm never satisfied with the food that's presented to me. Chicken, pork, pasta, chicken, beef, chicken; I take them in big servings.
People explain to me that it's natural for my body to crave for these food since I need the energy because of the lack of sleep. In turn, I usually just buy whatever I want and I don't have to compromise it.
I'm glad I have a job, although I have to live on a budget, I don't restrain myself when I eat just because I feel that I deserve it. I don't have to worry about not having enough cash to buy that extra shawarma or thirsty shake. I can just buy as many value meals with upsized fries and soda without hesitation. Fried chicken, it's like rice in my meal already.  Of course, I still do my best to eat some veggies and fish along the way.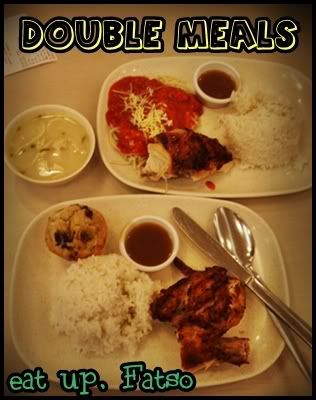 one of my regular lunch intakes
Please don't forget to confirm your subscription by checking your Inbox.
---
soloflightEd.com is a travel blog by Edcel Suyo. He enjoys performing headstands and crazy stunts during his trips in the Philippines, Southeast Asia, and the Middle East. Now based in Dubai, United Arab Emirates and working to earn a living, he takes time to enjoy the city and travel during weekends.
For updates, Like his page on Facebook or Follow him on Twitter.
For questions, advertising, and other concerns, shoot an email to ed@soloflighted.com.

---