I still cringe of putting the title as is. I still can't believe I watched a Tagalog movie in a theater seating in Ayala for the first time (pun intended)… waaaaaa.
For the first time, I watched this movie in an Ayala cinema! To think this was on an opening day! wahahaha.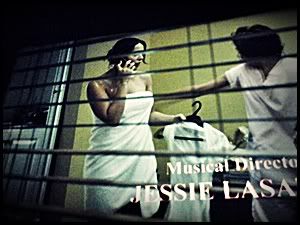 The last time I watched Filipino movies in a theater I can't remember anymore. I still don't have any plans of watching because of that colonial mentality already. But since I was just treated by a colleague (freebies!!!), I obliged. haha.
Girl hates guy, guy likes girl; they meet in Greece (faith?) because the boy is the owner of the place where the girl is staying. A short vacation, a short fling. Girl goes home, moves on with life; and the guy realizes he loves her. toinks.
I just don't like the idea of that slo-mo effect whenever 'kilig' scenes were being shown with the theme song being played over and over again, but I guess that's a Filipino staple already when it comes to movie-making to satisfy the masses' craving.
The backdrop and the place was good. It's Greece.
I just wanted it to have more confrontations. I mean, it was already good that they built the story up with the two lovebirds. When the characters broke up, with the woman in an emotional breakdown, the reconciliation part was just cut too short. I think that's one of the downsides.
The movie wasn't that great, but it's nice; I think. hehe. Maybe I'm just totally biased and I expected too much from it. Or it maybe because of the ending on why it came to be. Added to the fact that the cinema was full (on a weekday! and most people were broke) and we were left to seat on the front row (really front row) and tilt our heads up for the whole duration, we were seeing blown up sizes of the actors.
Anyway, watch it, you be the judge. hehe. For the first time. wahahahaha.
Please don't forget to confirm your subscription by checking your Inbox.
---
soloflightEd.com is a travel blog by Edcel Suyo. He enjoys performing headstands and crazy stunts during his trips in the Philippines, Southeast Asia, and the Middle East. Now based in Dubai, United Arab Emirates and working to earn a living, he takes time to enjoy the city and travel during weekends.
For updates, Like his page on Facebook or Follow him on Twitter.
For questions, advertising, and other concerns, shoot an email to ed@soloflighted.com.

---