I got free platinum tickets to watch Boyz II Men! Last July 22, 2009, Doi's brother-in-law gave her two complimentary tickets to watch Boyz II Men since McDonald's was one of the sponsors and he didn't have time to watch.
Doi actually offered it to Audrey first but I don't know why I ended up having the ticket. It would've been nice if Audrey was the one who could watch since Doi and I were not really fans of the group. Although I know some of their music, I wouldn't really regret passing up the opportunity.
The event was full of people I can't reach! haha. I just thought it would be a regular jeans concert but people were dressed with their best.I saw some prominent faces; celebrities and politicians and businessmen but I didn't recognize them as much.

Doi, waiting in line

blank seats that were filled 30 minutes after the start of the concert.
In almost every song, I would look at Doi to confirm if she knew the song that the group were singing. Her reply? NO. Haha. That's what you get when you bring two people together in a concert about a male R&B group that we're not familiar with.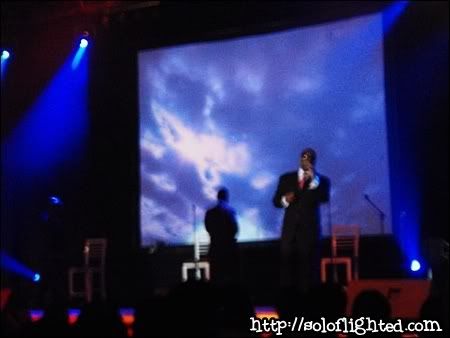 them guys. I don't know the names. haha
Don't get me wrong, I do know some of the songs; only the more popular ones such as "End of The Road", "I'll Make Love to You" and the ever obvious "Four Seasons of Loneliness" but I don't really know the lyrics as much. So we weren't really all agog over the guys. But it was nice to see them. I'm also not very fond of concerts as well, there's something about crowded places and people that doesn't entice me. To think that the tickets cost P4,500.00! That's 4.5K bucks!
However, if it were Michael Jackson or somebody I grew up with, for sure I'd be shouting with the audience and even be making a fool of myself. But then my mind is wandering far off already.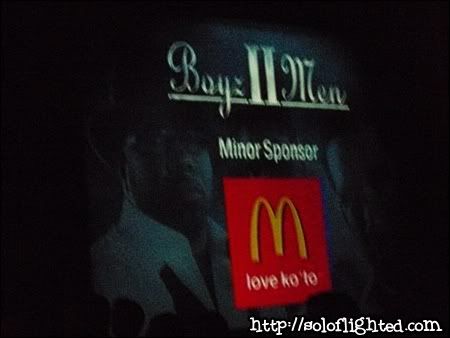 our sponsor. Mcdonalds. hehe
After the concert, we sat at one of the benches in the hallway of Waterfront leading to the exit and we were just waiting for the people to subside. We did nothing but people-watch. We didn't really do anything but ogle… Yes OGLE at people passing by. I still couldn't get the fact that people really dressed up for the event as if it were some high-profile event. But then again, considering the pricing of the tickets; people would definitely wear their best.
The people watching was already enough to keep my eyes full for the day. I still had work at that time so I had to go to the office to start my shift.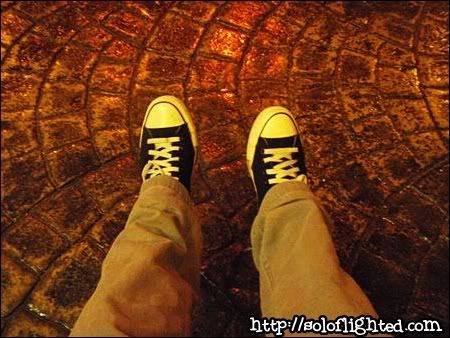 doing nothing
I was able to watch Boyz II Men for free! wahaha. I'd like to thank Mcdonald's and Doi, my sponsors. hehe
Please don't forget to confirm your subscription by checking your Inbox.
---
soloflightEd.com is a travel blog by Edcel Suyo. He enjoys performing headstands and crazy stunts during his trips in the Philippines, Southeast Asia, and the Middle East. Now based in Dubai, United Arab Emirates and working to earn a living, he takes time to enjoy the city and travel during weekends.
For updates, Like his page on Facebook or Follow him on Twitter.
For questions, advertising, and other concerns, shoot an email to ed@soloflighted.com.

---