After eating dinner at the o2 Spa, it's time for dessert! We just walked a few meters since we went to a cafe nearby.
The Strip is named as such because of a strip of establishments lined up in one strip. Wahaha, I don't even know how to describe it. Anyway, we got to visit Cakewalkers because we wanted a place to really lounge around and take advantage of the free wifi connection. hehe. Doi was reading the last installment of the Harry Potter book because she just saw The Half Blood Prince a couple of days ago and wanted to refresh her mind. Audrey and I just made use of the time blogging and surfing. She ordered a cup of coffee or so
What I like about Cakewalkers, although there a number of coffee shops in Cebu already, is that they have a 2nd floor for those who don't want to be stared by people outside. It gives you that sense of privacy when you just want to be alone and all emo. haha. Really, I like the spaciousness of the 2nd floor and I also like the fact that we can borrow some extension wires for those who have laptops for convenience. You don't have to really pick the spot where there's an outlet as the staff can just lend you one. Now that's service!
We're planning to go back there because unlike the crowdedness of Starbucks, Bo's Coffee and other places, you still get a better ambiance because there aren't that many people to bump into and the cakes are more affordable!
Cakewalkers
The Strip
Osmena Boulevard, Cebu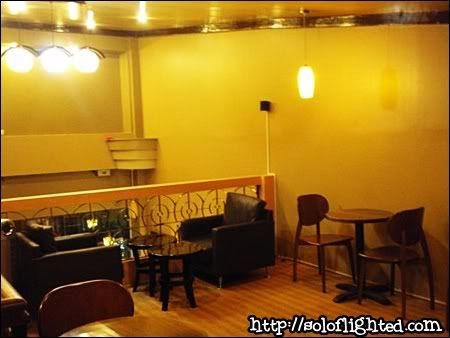 chairs

the coffee that audrey bought. hehe
Will definitely be back here at Cakewalkers!
Please don't forget to confirm your subscription by checking your Inbox.
---
soloflightEd.com is a travel blog by Edcel Suyo. He enjoys performing headstands and crazy stunts during his trips in the Philippines, Southeast Asia, and the Middle East. Now based in Dubai, United Arab Emirates and working to earn a living, he takes time to enjoy the city and travel during weekends.
For updates, Like his page on Facebook or Follow him on Twitter.
For questions, advertising, and other concerns, shoot an email to ed@soloflighted.com.

---