This is a very late post. Some time in September, during my birthday week, we ate at La Maison in Ayala. I don't know what happened why I didn't post this directly; maybe because I was busy? Nah.
We ordered the bento meal (I forgot if it was chicken or something else) but we didn't expect the platter to be that big! We just ordered some extra rice since we also had some spareribs to share. Besides, I think I was the only one who had a big appetite that day. We almost forgot that we ordered desserts so it really made us full.
We told them that it was my birthday and I got a free cake plus the embarrassing greeting. But I was game enough to be welcomed for celebrating the even there. Good thing there weren't that many people inside. hehe.
La Maison
Ayala Center, Cebu
(click to enlarge)

La Maison : Home of the Best Ribs, Steaks, & Seafood!

complementary appetizer: bread platter with a vinegar-olive oil dip

ribs!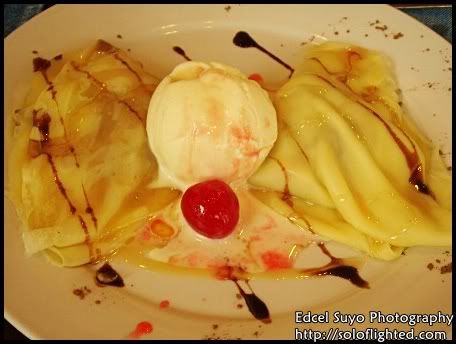 choco cake, strawberry cheesecake, and i forgot this one. hehe.

desserts at La Maison in Ayala
Please don't forget to confirm your subscription by checking your Inbox.
---
soloflightEd.com is a travel blog by Edcel Suyo. He enjoys performing headstands and crazy stunts during his trips in the Philippines, Southeast Asia, and the Middle East. Now based in Dubai, United Arab Emirates and working to earn a living, he takes time to enjoy the city and travel during weekends.
For updates, Like his page on Facebook or Follow him on Twitter.
For questions, advertising, and other concerns, shoot an email to ed@soloflighted.com.

---