One weekend, we went to o2 Spa at The Strip to grab a bite to eat. I was really hungry at that time since I missed breakfast and lunch. We were looking for some good wifi connection to while the time away and Audrey suggested in her blog to go to o2 Spa which is one of the establishments at The Strip in Osmeña Boulevard.
It's a multi marketing business wherein they offer a number of services in store for their clients . A carwash, massage parlor, a bar and a restaurant at the same time. Definitely there are a number of things you can do to keep yourself busy. The owner was there when we dined in (or dined out in our case) and he talked to us and explained the reason for catering to more than one service to its clients as you can target different customers with different needs.
O2 Spa
The Strip
Osmeña Boulevard, Cebu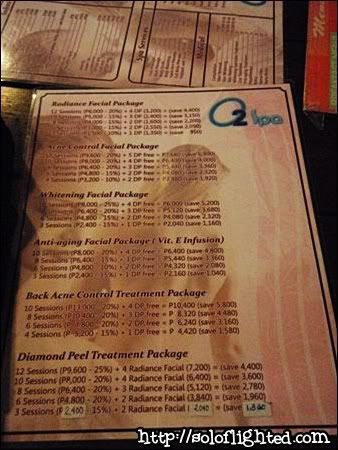 menu for the massage and spa services, and menu for the resto

ordered back ribs and carbonara!

chairs from The Strip establishments
Please don't forget to confirm your subscription by checking your Inbox.
---
soloflightEd.com is a travel blog by Edcel Suyo. He enjoys performing headstands and crazy stunts during his trips in the Philippines, Southeast Asia, and the Middle East. Now based in Dubai, United Arab Emirates and working to earn a living, he takes time to enjoy the city and travel during weekends.
For updates, Like his page on Facebook or Follow him on Twitter.
For questions, advertising, and other concerns, shoot an email to ed@soloflighted.com.

---