Just a little something I made out of boredom since I was downloading a few fonts. I guess this is one of my frustration. I've always wanted to be part of Media and the like. Maybe that's why I like to create websites, I want to take pictures.There's something about capturing a moment, enhancing it to make it better and sharing it for other people to appreciate that drives me to do these things without really gaining much in return (except for the appreciation).
Anyway…
Theme: Together We Will Stand
Objective: Take a picture of any living/non-living things in a standing position capturing that would also coincide with the theme.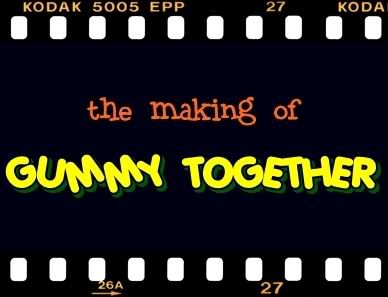 Doi, Audrey and I went to SM Cebu in order to take some pictures of the idea that was conceptualized because of eating too much sugar. I already had some okay shots in my computer's hard drive but when we printed them out, the quality of the picture wasn't good but just fair.  I didn't have much time and sleep because I just clocked out of the office and I still had some pending tasks. But Doi insisted on buying another batch of gummy bears and drive our way to a location to have another take at those colorful candies because she wasn't satisfied.
There, I was a bit embarrassed that people were watching at us because I'm just an amateur picture-taker with underdeveloped skills. I wanted to just get it over with because I didn't feel the moment. But when we warmed up, and I was encouraged by my friends to NOT care about the people looking at us, I soon got comfortable.
There was even a point that a couple of Japanese tourists came up to us and was wondering why we were taking pictures of Gummy bears in a public place. We didn't have time to explain (language barrier) but they were fascinated by our wacky idea; they even gave us their own Gummies (Japanese ones) out of the blue.
Good thing as well that the guards didn't really reprimand us as they were also amused at our little photo shoot. It was difficult at times because of how fragile those little suckers were. They'd fall at any moment because they wouldn't stand upright that's why it's really necessary that you're quick at taking those snaps. However, I still had to learn because of adjusting the settings in order to maximize the use of the camera.
In the end, we were able to take some good shots and we just picked one the best one and submitted as one of my entries. In then end, I won first prize! I'm just proud that we were able to bag it. In return, I won 1500 bucks which is pretty neat. Re-posting the finished product.

I was in it for the CUTE factor.
Please don't forget to confirm your subscription by checking your Inbox.
---
soloflightEd.com is a travel blog by Edcel Suyo. He enjoys performing headstands and crazy stunts during his trips in the Philippines, Southeast Asia, and the Middle East. Now based in Dubai, United Arab Emirates and working to earn a living, he takes time to enjoy the city and travel during weekends.
For updates, Like his page on Facebook or Follow him on Twitter.
For questions, advertising, and other concerns, shoot an email to ed@soloflighted.com.

---