Bigby's Cafe & Restaurant
Terraces
Ayala Center, Cebu
The night of my birthday last September 09, 2009, we went out because I wanted to treat Doi and Audrey for dinner. I wanted to try something new and we figured that we'd eat at Bigby's restaurant at the Terraces in Ayala Center Cebu since I've always wondered what's inside. Doi has eaten at this cafe but Audrey and I were first-timers so we decided to stay there. It was a Wednesday and a holiday so i really didn't mind going out and splurging.

Bigby's Cafe & Restaurant, they had tables outside but we wanted to get in so we could feel the ambiance as we're also paying for it.
At the entrance where you'll be greeted by a giant menu board outside for you to check out what you can order inside. At least you won't have to guess what type of food is available as they already have the dishes on pictures with their prices.
We sat near a table full of laptop girls (lol), there were four of them who all had notebooks and were surfing away. I noticed that they've been there for quite some time considering that all of their laptops with their respective battery charges were connected 2 extension wires on top of a shelf. It was a bit of a frenzy to look at with all the wires surrounding them.
The real menu: We were having a hard time deciding what to eat since I didn't know what their bestsellers are. Since there were three of us, we chose some platter meals instead. I was actually more in tune with checking out the desserts.
Inside Bigby's Cafe and Restaurant, I saw some masks, badges, bar pins, flags on their walls which reminds me of TGIF or Casa Verde. Sure enough, when I saw the meals served to us, the restaurants I've mentioned do have some similarities because of the serving sizes and the prices. hehe.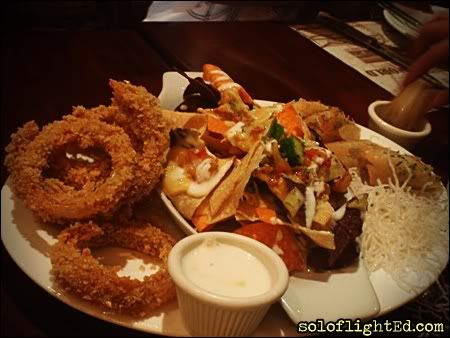 First up, we ate the Triple Crunch Platter – a combination of appetizers (tic-tac-rolls, nachos and sweet onion loops) P285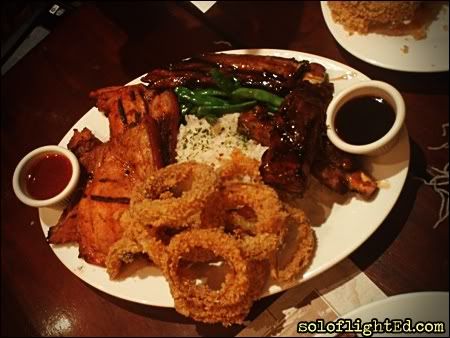 Next up was our main meal, The Belly Buster : grilled baby back ribs, rodeo chops and pork belly served with garlic rice, buttered vegetables and onion rings – P465. We ordered some extra rice with all the food that we got. We never got to finish everything as the onion rings seemed too many already. We thought that those were calamaris but it turned out that those were just onion rings. toinks.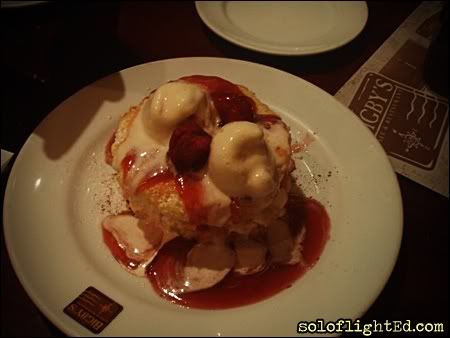 And for dessert, a Strawberry Shortcake – P159. I was initially planning to eat their famous Titanic Treat which is a bowl of 30 ice cream scoops of different flavors with some fruits, brownies, cookies and chocolate chips priced at P850.
I wanted to try their challenge out wherein if we could finish it in 5 minutes, the Titanic Treat would be free of charge! But then, thinking that I brought two women with me, with the other one being on a diet, we decided to save it for next time. I didn't want to risk the challenge as the price for that dessert was 850 bucks!
Those are the laptop girls I've mentioned on the other table, I asked Doi to take a picture of them while not being obvious. They have free wifi connection so you can just surf yourself away until sawa.
The food was good but the service was so-so. The waitress who took our orders was really accommodating and knew how to sell their products. However, it took a while before we got our bill or the other food. They should've checked on us every now and then if we were done with our platters or whatever we needed next. It would've been better if they would follow up if something was missing or if our bottomless iced tea or lemonade needed some refill. But this was my day and I wanted it to be just stress-free so I didn't really mind.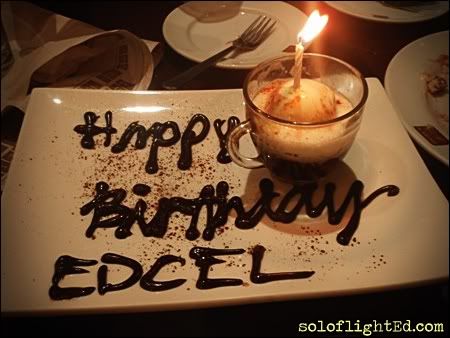 Alas, a complimentary birthday cake! I was embarrassed because they sang a not-so-ordinary birthday song which actually felt like forever. Anyway, I'd do anything for freebies. hehe.
I'm already 23 but I still feel like a kid. Something must be wrong.
Please don't forget to confirm your subscription by checking your Inbox.
---
soloflightEd.com is a travel blog by Edcel Suyo. He enjoys performing headstands and crazy stunts during his trips in the Philippines, Southeast Asia, and the Middle East. Now based in Dubai, United Arab Emirates and working to earn a living, he takes time to enjoy the city and travel during weekends.
For updates, Like his page on Facebook or Follow him on Twitter.
For questions, advertising, and other concerns, shoot an email to ed@soloflighted.com.

---