so mad at myself, took an exam from one of my major subjects and went all blank. much to my dismay, t'was the subject wherein i had the least grade overall. i already flunked in my class standing, plus the exam… arrgggh!!! the day i dread the most, failing. dunno what happened, i have lots to do at home and in school but, i never got to think twice and set my priorities up. no need to go to the higher ranks to ask for a special project or so in order to make at least a passing mark; what have i got for them to listen to? a perfectly illogical reasoning? or an equally commiserable pleading?

i'm still hoping for something. hate the idea of repeating again. especially now that prices are going up and we can't afford to fail. i just regret on why i wasn't able to study that much. it hurts paying and not being the best at it. also since i've already been acquainted with the value of money. and i've waited a year for this, i don't want to be like other people who doesn't value the privilege of proper education.

so school's over. woohoo! but i'm planning to take summer classes. that leaves vacation out of the question. besides, other than household chores, we're still working at home; that's why i'm also busy still.
---
overheard this conversation when we ate at a fastfood joint from some students of an international school. why i assumed that? girl's wearing a miniskirt, the guy, slacks. and both of them had long sleeved tops complete with neckties and all, not to mention gel for the hair and socks knee-high. hehe. anyway, one couldn't help but stare at how contradicting the scene was. it was a washday. no need to explain further for the 2nd party (us).
girl: i hate it when a guy says, "can i court you?"; it's a complete waste of time!
guy: why? what's wrong with saying that?
girl: well i would appreciate it more if the guy would just go directly to the girl and tell her how he feels.
guy: isn't it better since the guy asked for her permission?
girl: that's just it, it's totally useless! is he trying to ask permission from the girl if he can like her? it's like saying, "can i like you?".
——silent——
good point.
lesson would be… don't talk that loud cause other people will listen. hehe. i learned something new. hehe.
---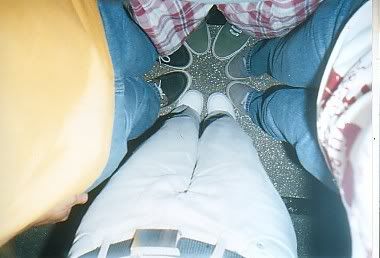 so life's been pretty boring and i dunno what i'm going to do since i can't go out often. which also means i can't blog that much. blogging is the only social activity (that i enjoy) i have these days. still, this thing isn't really for the masses. so as usual, i'll just come by once in a while. just breathing out.
posted Tuesday, 15 March 2005
A visitor made this comment,
hmmm for some reason i wasnt bothered with my test results. i know i may have failed with a few. im still hopeful that i passed. i am too tired to be bothered with grades now. hahay.i dont like being ask that question too. I would have to agree with that girl. hehe =)Asa diay ka puyo karon?nina
comment added :: 23rd March 2005, 09:47 GMT+08
A visitor made this comment,
arrrgh, like i needed a reminder that i still have to turn in my finals paper for humanities. damn… anyway, me and he-who-must-not-be-named also had that conversation, reminded me of him… duh, so kapoy. hope you enjoy your vacation, though its not really a rest. 🙂 blog often, miss your entries.nix
comment added :: 26th March 2005, 13:03 GMT+08
A visitor made this comment,
well, we all have our own ups and downs..its just how we take them all:)rols
comment added :: 27th March 2005, 20:08 GMT+08
A visitor made this comment,
good luck if you will pursue summer school. hope it was a restful holy week for you lil bro!

Paul


comment added :: 28th March 2005, 13:24 GMT+08
crunchies

made this comment,
sna nga lahat ng estudyante pahalagahan ang pagaaral nila. ke mahirap o may kaya sila. subukan mo muna magtanong kung pwede, malay mo pagbigyan ka nila? kung hindi, bawi ka nlang ngayong summer. keep your head up! 🙂
comment added :: 29th March 2005, 23:53 GMT+08
CNBGirl

made this comment,
goodluck sa grades. enjoy summer vacation!
comment added :: 3rd April 2005, 23:12 GMT+08
A visitor made this comment,
wow, summer vacation na!init dira sa cebu bai?drei
comment added :: 6th April 2005, 17:41 GMT+08
Please don't forget to confirm your subscription by checking your Inbox.
---
soloflightEd.com is a travel blog by Edcel Suyo. He enjoys performing headstands and crazy stunts during his trips in the Philippines, Southeast Asia, and the Middle East. Now based in Dubai, United Arab Emirates and working to earn a living, he takes time to enjoy the city and travel during weekends.
For updates, Like his page on Facebook or Follow him on Twitter.
For questions, advertising, and other concerns, shoot an email to ed@soloflighted.com.

---