While still at Robinsons Bacolod, my friend couldn't wait taking me to this place called Calea which sells cakes and pastries at very, very AFFORDABLE prices!
Honestly at first, I didn't find anything exciting with cake shops. I eat cakes, but not that much, I'm more of an ice cream person. But still I wouldn't really spend much for desserts. I was also able to taste some cheesecakes in Cebu but my desire was still at a normal level. Here are some previous entries about them.
Anyway, Calea is only available in Bacolod; they don't have other branches except in the City of Smiles.
The great thing about this is their slices and prices (ha, didn't think I could make a rhyme). Really, the slices are normal cake slices, I didn't feel that I was ripped off because they were cut just right. Plus the prices! haha. Normally, in some previous cake shops in Cebu, it would usually cost at least 95 pesos for a cake, and sometimes 150 pesos for ones that have much better ingredients. But here in Bacolod, Calea's cake would just range from 60 to 70 pesos! We ate 3 types of cakes, and I was thinking I'd pay around 3oo but it only cost us 190 bucks!
Pardon me if I'm getting too involved with the pricing, but I can't help exclaiming that the cakes are really affordable! Too bad they didn't accept credit cards.
On my last day in Bacolod, we were supposed to go to one of Calea's branches (they have 3 ). However, it rained so hard most of the time that we had a hard time waiting for a cab ride back to the Inn.
CALEA CALEA CALEA. sigh. I can't seem to get over it. hehe.
(click to Enlarge)

Vanilla ice cream pie: 58.50 Php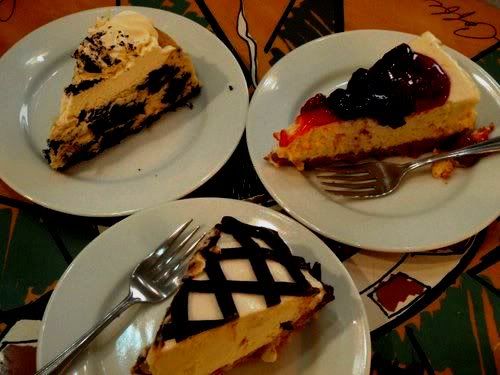 let our powers combine
By the way, you might wonder why I still know how much the cakes cost, it's because I still kept the receipt. I still can't get over the prices. hehe
Please don't forget to confirm your subscription by checking your Inbox.
---
soloflightEd.com is a travel blog by Edcel Suyo. He enjoys performing headstands and crazy stunts during his trips in the Philippines, Southeast Asia, and the Middle East. Now based in Dubai, United Arab Emirates and working to earn a living, he takes time to enjoy the city and travel during weekends.
For updates, Like his page on Facebook or Follow him on Twitter.
For questions, advertising, and other concerns, shoot an email to ed@soloflighted.com.

---