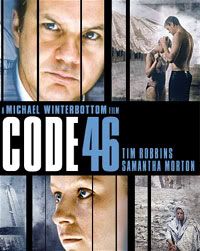 How do you solve a crime when the last thing you want to know is the truth?
sci-fi romance. first glance, this can be mistaken for a psycho-like flick because of its ambience. but actually, it had more take on drama and the boundaries of what futuristic love according to certain rules may bring.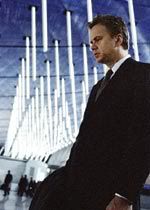 code 46 is the law that prohibits two people with a genetic compatibility from mating. from that, you seem to get why the plot is at is. looking again, there're many aspects to be taken consideration of, which i guess is partly one of the few things i like. although the story revolved around the two characters, it also tried to visualize what may happen in the future and how people can be so cruel and desperate just to be labeled with a citizenship or else be isolated in the wilderness together with other non-citizen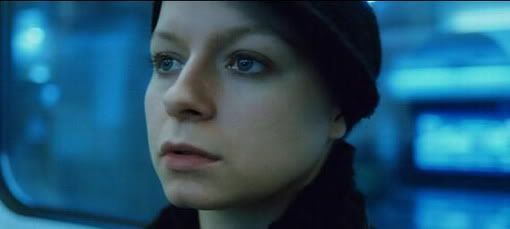 s as well. the protraits were a bit bland. you can't see the tension between the main persons. lack of chemistry in another way.
i didn't know where the movie was going to actually. you keep wondering what'll happen towards the end. but after you find out what, you're dumbfounded cause you feel that you're cut short on the scenes. wondering if that really is all. nakakabitin.
not my typical flick. not with my current state anyway. good enough for me to watch just once. but the soundtrack's good. especially how it soothes the background and compliments the state of the characters. cold, lonely ang nostalgic. like sugar, cream and coffee blended into one. served hot to warm the inner's soul. but once gulped down, turned out to be cold. especially when you watch it at dawn. i don't drink coffee so that explain's the dullness.
---
the school's imposing the "uniform for male" law this semester. only initially the new rule's applicable only to the incoming first years (thank God!). not that i hate school uniforms. first step in college, i wished we had to wear one so i won't have to bear the ordeal of picking what to wear or which shirts haven't been to the laundry lately. but soon, i appreciated it. the freedom is eccentric. still i learned that i need not be the typical gel boy i once was. so long as i'm comfortable with what i'm in, i need not be conscious of what other people think. nobody really cares much in here anyway, unless you have booger on your face. you're even criticized more if you dress paporma. it's only the women who wear uniform, 'cept on wash days of course. and now they're happy that it's starting to be implemented on us *ehem* freshmen to the least. true, it's gender bias.
now, signs are being posted to remind us to fight for the independence that was sustained throughout the years in this school. but that doesn't mean either that i 'm a con nor am i a pro. i'm not really an activist. i'm more of a"non-uniformist". lol. cause what's next when everyone conforms? earrings? haircuts? what about the "rugged but educated" ideology of engineers? now i'm being a little steroetypical. but what do i got to base for anyway? still, i'm just waiting on what'll happen next. like i have to join this cry, got so much to do already. am not even sure of what the future brings so it's hard to take a stance when you aren't sure. though we're all vulnerable to anything no matter what status you're in. bahala na.

---
going back to the present. i ran to our class to take our finals as i was already 30 minutes late. now where had i been? at the library, one hour earlier, i decided to rest my eyes for a while. then it occurred to me. looking at the long hand of the huge clock. t'was stretched on the 12th and not on the 6th. good thing the subject's only philosophy and apparently, an essay type at that.
---
A warning sign
I missed the good part then I realised
I started looking and the bubble burst
I started looking for excuses
Come on in, I've gotta tell you what a state I'm in
I've gotta tell you in my loudest tones
That I started looking for a warning sign
When the truth is
I miss you
Yeah the truth is
That I miss you so
posted Thursday, 19 May 2005
nicole made this comment,
i think uniforms are okay at least you don't have to think about what to wear everyday hehehehehe well if you are already in college medyo annoying lang
take care!
nicol
comment added :: 20th May 2005, 02:59 GMT+08
ravissant made this comment,
i've never seen any previews or posters advertised of code 46 here, but then again i hardly watch movies at theaters anymore. i loved the idea of wearing uniform back in school. it saved me a lot of moolah buying clothes
comment added :: 20th May 2005, 10:14 GMT+08
A visitor made this comment,
before, ateneo here only had uniform for the girls too, but lately, about 3 years ago, the boys conformed to the new uniform. and now, bansag na sa mga atenista ang maid and driver kind of look. excited na ko mag 1st sem ulit, i kinda miss my uniform lol.
nix
comment added :: 20th May 2005, 11:28 GMT+08
A visitor made this comment,
uniform? ang maganda lang dun e d mo na kelangan isipin yung kelangan mong suotin bawat araw.. hehehe. sayang sa first year lang hahaha. joke.
"A warning sign
I missed the good part then I realised
I started looking and the bubble burst
I started looking for excuses
Come on in, I've gotta tell you what a state I'm in
I've gotta tell you in my loudest tones
That I started looking for a warning sign
When the truth is
I miss you
Yeah the truth is
That I miss you so"
EHEM! LOL
see ya bro slimer. hihi
ami
comment added :: 20th May 2005, 20:36 GMT+08
A visitor made this comment,
di ko din trip may uniform. it helps somehow to go about in a day's school work if you're comfortable w/ what you're wearing.
Paul
comment added :: 23rd May 2005, 11:31 GMT+08
A visitor made this comment,
wearing a necktie longsleeves and pleated skirt when i'm already in college was a major adjustment for me but i loved the library in that school. when i need to review, i sit on the right, overlooking the quadrangle. when i want to read pocketbooks and daydream, i sit on the left, overlooking the tree covered sidestreet.
crunc
comment added :: 23rd May 2005, 21:37 GMT+08
Shawty made this comment,
my college sucks since we dont have washday for security reasons. at first it kinda annoyed me since i expected to much to wear plain clothes atlest twice a week when i get my ass in college. But well naanad napud. All white padyud uniform bwahahah
comment added :: 25th May 2005, 13:56 GMT+08
CNBGirl made this comment,
havent seen code 46, but it does sound interesting.
nakakaloka ang walang uniform sa mga walang fashion sense katulad ko. choosing what to wear was my biggest ordeal in college. hehe
comment added :: 27th May 2005, 16:24 GMT+08
A visitor made this comment,
nicole: yup, parang highskul. hehe.
ravissant: watched code 46 at home lang. =)
nix: ha, amin eh janitor/tress. hehe. wat's funny is when you get to see the unexpected ones (rugged, long hair, rasta, etc.) wearing uniforms. opposites attract? nah.
mia: LOL. shhh about slimer! haha, meh magagawa pa ba ako?
paul: yeah, kahit me gusot o kupas na. sabi nga, "don't judge anyone, we are not books." lol.
crunch: ako i don't like the library here, well, at least not for reading anyway. sleeping ok!
shawty: forgot to exempt the nursing students from the 'no uniform on washdays'. anyway, yeah, go white ladies! *oops* 🙂
cnb: ha, count me in on that. i rely on plain clothes lang. don't like big prints. the lesser the better.
comment added :: 28th May 2005, 19:52 GMT+0
Please don't forget to confirm your subscription by checking your Inbox.
---
soloflightEd.com is a travel blog by Edcel Suyo. He enjoys performing headstands and crazy stunts during his trips in the Philippines, Southeast Asia, and the Middle East. Now based in Dubai, United Arab Emirates and working to earn a living, he takes time to enjoy the city and travel during weekends.
For updates, Like his page on Facebook or Follow him on Twitter.
For questions, advertising, and other concerns, shoot an email to ed@soloflighted.com.

---