went to school for an engineering drawing class at 7:30 am. woke up pretty early too. to my glee, the teacher wasn't around, for the 2nd time. got down the lobby and there was a bloodletting program going on. i'm not new to donating blood. but i'm not saying that i'm old at it either. in fact, this has just been my 2nd time. the first was when i was 16, i had to catch up on my grades in NSTP (national service training program) and this was one of the few activities that differed my final grade from my other classmates. and now's not another story with regards to my CWTS (civic welfare training service) class. i'm not really very squeamish of seeing the sight of my own blood or staring at a needle piercing my arm. honestly, i enjoy watching it. hehe.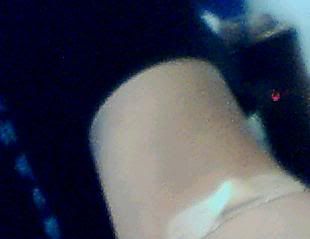 they didn't ask me if i was left-handed or not (i'm a righty) so they started it off with my left. in dismay, the med-tech practitioner didn't do it right cause the blood didn't flow freely.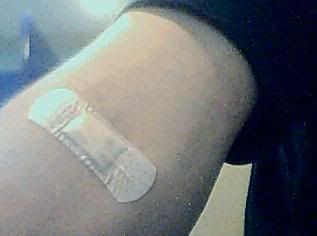 had to transfer to a "more experienced" trainee and this time, to have no other complications, was done on my right arm.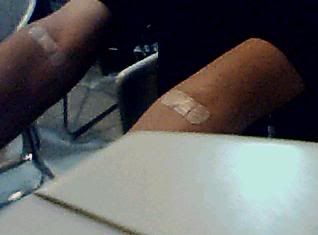 now, i have to sport two band aids while running to and fro classes. call me band-aid dude from now on.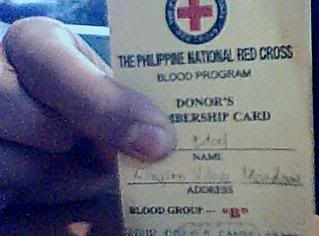 i now have a card from the philippine national red cross. 🙂
it's good to give blood, aside from getting some food after, you get to help other people in your own way. you may not know when you might need some. and besides, it cleanses cause it replaces the ones lost in your system. you might feel a little drained after a few minutes, but it's alright. don't donate on an empty stomach though. you don't wanna know how long it took for the person beside me to get the color in his face back. i'm not saying that i wasn't nervous too. i was, but a kind similar to going to a stage to say something or your class having a presentation with eyes staring at you. but the being afraid type? nah. they said after three months they're going to call me. i'll be ready.
posted Friday, 28 January 2005
A visitor made this comment,
uy puro band aids. hehe. ako d pwede magdonate ng blood kasi kulang kulang na nga ako hehe.amia
comment added :: 28th January 2005, 16:33 GMT+08
nicole

made this comment,
wow i should try to do that, that is one good way to help people 😀 good job ed!take care!
nicole
comment added :: 29th January 2005, 02:35 GMT+08
Shawty

made this comment,
you can only donate blood when your 18!!!! once i turn 18 magdodonate me ng blood. wala lang redcross thingy din.. for the service of humanity hehehehe
comment added :: 29th January 2005, 21:06 GMT+08
A visitor made this comment,
naks! ur one of the few good men na Ed! hehe =)nina
comment added :: 31st January 2005, 01:35 GMT+08
CNBGirl

made this comment,
lagi kong tina-try magdonate kaso laging may problema. (kakagaling ko lang sa oral operation, at kung anu-ano pa.)siguro ayaw lang talaga nila ng dugo ko. hehe. 😉
comment added :: 31st January 2005, 08:39 GMT+08
Nix

made this comment,
i think i can bear the ordeal if i keep my eyes shut the entire time. am extremely squeamish at the sight of needles piercing my skin and blood. but will try to do that one of these days.btw, you're a B, what? + or -? kasi my sis needs blood every so often and we kinda have a hard time looking for blood for her and she's a B+.
comment added :: 31st January 2005, 09:05 GMT+08
A visitor made this comment,
ill never do that thing donating my blood kac natatakot akong magdonate ng blood kac masakit hajovy
comment added :: 1st February 2005, 11:22 GMT+08
A visitor made this comment,
i've been wanting to do that! yan daw secret ni FVR, every year nagdo-donate.di ka ba nila tinanong kung may tattoo ka or any sickness you've had or hereditary diseases in your family? pwede agad after 3 months?sa abroad daw, pag gipit na ang mga pinoy, nagdo-donate ng dugo kase may bayad raw. narinig ko lang yon ha.crunchies
comment added :: 1st February 2005, 15:41 GMT+08
A visitor made this comment,
amia: onga, wag na! lolnicole: thanks! when you can, blog about it. and don't forget the bms! -bridget moments!- hehe.shawty: ah ganun! ako pramis talaga, when i was 16. btw, pwede ba magamit ni clang clang ako dugo na napundo? unsaon?nina: nyak! hehe, thanks! link na kita oks? :-)cnb: lol.nix: you endured how many needles during pregnancy, im sure it'll be a cinch. =) B+jovy: woah, a visitor! any links i can visit??? u have a blog?crunchies: uu, meh evaluation sheet (containing the ones you've mentioned, tattoo…) na pinafi-fill up muna, then konteng interview then good to go. kunin rin ung timbang mo kung qualified. that's what they said. 2-3 months. and sa bayad, kahit nga dito sa pinas, meron din. pero narinig ko rin lang yon. ewan ko lang magkano… :-)ed
comment added :: 2nd February 2005, 15:46 GMT+08
A visitor made this comment,
ehem:when you guys get blood from the redcross its totally free. but when you let them get blood from you, you pay them. for the needle to be use minimal lang naman yun…well about cklang's ordeal. yup ed you can donate (but you can sell it naman hehehe mahal bya dugo run) your blood to her IF you guys have the same blood type. i think cklang is B+. yup klang can get your "napundo" na dugo if she can coordinate with redcross cebu chapter. but that would be very complicated. i suggest you let klang pay for the hospital where you can get your blood sucked and let her pay for the other expenses (transporting the blood here).shawty
comment added :: 3rd February 2005, 14:37 GMT+08
coleen

made this comment,
hi ed! you're lucky you only had two. when i had an operation they could hardly find my veins that i had at least 10 piercings. you're still lucky mr. band-aid guy.
comment added :: 4th February 2005, 11:57 GMT+08
ravissant

made this comment,
ako hindi pwede dahil kulang daw sa iron. parang blood bank ka ng redcross nyan, ha? hehe! biro lang! ang bait mong bata. 🙂 stay healthy, ed.
comment added :: 4th February 2005, 14:28 GMT+08
crunchies

made this comment,
salamat sa info, h.
would you consider getting an organ donor card as the next step? you can get one in hospitals, i think. mine was from the kidney institute. at the back, you write your name, check the organs you want to donate and have it signed by 2 people.
can we see your redcross card?
comment added :: 7th February 2005, 09:37 GMT+08
edandhisdarkgreenlife

made this comment,
shawty: thanks for the info! hehe =)coleen: nyak! ganun? ;pravissant: thanks!crunchies: ha? organ? wala pa akong balak. hehe. pero maybe. which part (about sa red cross card?) 🙂
comment added :: 11th February 2005, 10:52 GMT+08
Please don't forget to confirm your subscription by checking your Inbox.
---
soloflightEd.com is a travel blog by Edcel Suyo. He enjoys performing headstands and crazy stunts during his trips in the Philippines, Southeast Asia, and the Middle East. Now based in Dubai, United Arab Emirates and working to earn a living, he takes time to enjoy the city and travel during weekends.
For updates, Like his page on Facebook or Follow him on Twitter.
For questions, advertising, and other concerns, shoot an email to ed@soloflighted.com.

---