Now I understand why parents would really look after you when you're young and become hesitant whenever there's a retreat for their children. You'll never know what'll happen next.
Last Sunday, I went island-hopping again together with some people from my old account.  This was my fourth time to join this type of activity and I was a bit apprehensive since it's getting boring already because of the same places we're bound to be in. But I had to to go since I already promised a colleague that I would and I also wanted to test my camera if the shots underwater were good.
It turned out to be a series of unfortunate events for all of us. When we went to a marine sanctuary, although the sun was scorching hot, the waves weren't as calm as we thought. When you'd jump in the water, you'd wonder why you're suddenly 3 meters away from your spot.
We planned to go to some islands (island-hopping *duh* hehe), but it turned out to be more of a boat-sailing activity since we never stepped on one. Because the boat that we rented had something broken and we got stranded in the middle of the sea. And when the rescue boat came, 'twas already around 2:30pm. The plan didn't push through for we just made do with a nearer supposed sandbar. Supposed because when we got there, there was no land. The captain said it's because of the tide that was high.
When it was time for us to go home, it was already dark. We also had a big problem since the captain was not able to see where we were headed to since they didn't have lights on that boat. Plus, the waves were already too uncooperative that we went silent because of fear.  Initially we were all laughing and screaming whenever the water would splash and would get us all wet. However, the noise subsided because the waves were madly huge already. The waves were so strong that it wasn't funny anymore because of the danger. I got seasick I wanted to vomit. Some were already crying as if it were THE end. People were already texting there loved ones, leaving their last will and testaments (honest!). Seriously, I know how to swim but it was still scary.
But we were able to reach our destination afterwards, land that is. We were relieved. Even though I didn't really enjoy the "island-hopping" because we never really went to an island or two, the company I had compensated for the poor service. I'm glad we're alive.
Good luck guys, this is our second life. toinks. Basin maligsan nya ta. Final destination bah?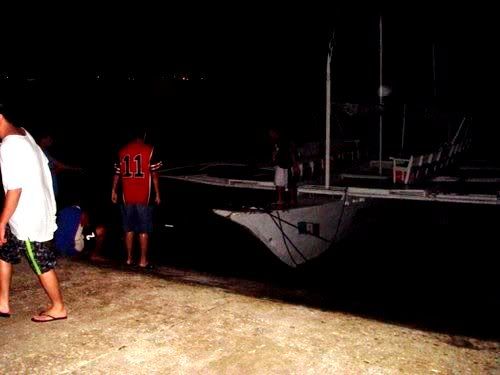 finally found land, glad to step on it!
Please don't forget to confirm your subscription by checking your Inbox.
---
soloflightEd.com is a travel blog by Edcel Suyo. He enjoys performing headstands and crazy stunts during his trips in the Philippines, Southeast Asia, and the Middle East. Now based in Dubai, United Arab Emirates and working to earn a living, he takes time to enjoy the city and travel during weekends.
For updates, Like his page on Facebook or Follow him on Twitter.
For questions, advertising, and other concerns, shoot an email to ed@soloflighted.com.

---