Two of my colleagues applied for a position and got promoted so it's inevitable that a food treat would follow suit. We originally planned to go to Pino!  but it would've been way of budget. So we opted to go somewhere more affordable but with class. At least it's free! hehe.
Golden Cowrie
Salinas Drive, Lahug

banana leaf plate
 

outside our room, lights… bow.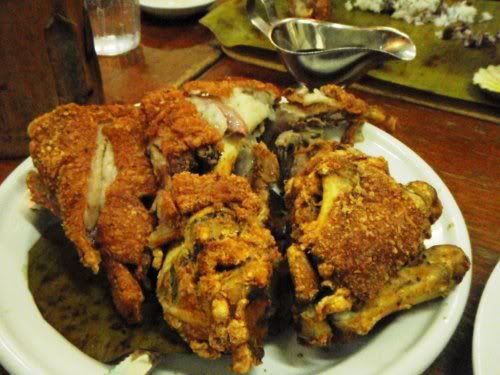 crispy pata!
Please don't forget to confirm your subscription by checking your Inbox.
---
soloflightEd.com is a travel blog by Edcel Suyo. He enjoys performing headstands and crazy stunts during his trips in the Philippines, Southeast Asia, and the Middle East. Now based in Dubai, United Arab Emirates and working to earn a living, he takes time to enjoy the city and travel during weekends.
For updates, Like his page on Facebook or Follow him on Twitter.
For questions, advertising, and other concerns, shoot an email to ed@soloflighted.com.

---