I submitted my requirements such as my NSO birth certificate, a valid government ID, my company ID, certificate of employment, NBI clearance, the amount 1000 bucks (not rushed) and waited. I had my appearance after a week and waited again.
After almost two months, I got it! I got my Philippine passport! I don't really care if I looked like an escaped convict out to prance on the nearest victim (bad simile, Ed).
I just like the fact that I'm able to get it early on. I kept on calling the agency where I applied for when it reached 30 business days just to ask for any update. When I texted the agent in-charge, he informed me that it's available but the problem is I had to get it from the Department of Foreign Affairs (DFA).
It was just a hassle for me to go there since I have to go through traffic in Cebu's old metro on a weekday. When I got there, I had to wait for an hour before I could get it. I thought that it would just be forwarded directly to the agency. To think that I had to wait outside because  I just wore slippers *ehem* flip flops. hehe.
Anyway, to anybody who's planning to apply for a passport, I highly recommend you just apply for a rushed one; that is, if you easily get hasty like me. Or if you have the time, then you can get one without hiring an agency, it'll save you half the price.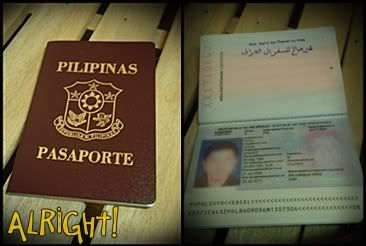 where to now?
Please don't forget to confirm your subscription by checking your Inbox.
---
soloflightEd.com is a travel blog by Edcel Suyo. He enjoys performing headstands and crazy stunts during his trips in the Philippines, Southeast Asia, and the Middle East. Now based in Dubai, United Arab Emirates and working to earn a living, he takes time to enjoy the city and travel during weekends.
For updates, Like his page on Facebook or Follow him on Twitter.
For questions, advertising, and other concerns, shoot an email to ed@soloflighted.com.

---