Imperial Palace Waterpark Resort and Spa
Mactan, Cebu
Last November 28, a couple of former officemates and I went to the Imperial Palace in Mactan. We went to SM to meet up and have some early lunch to make ourselves full during the remainder of the day. We hailed a cab to take us to Mactan. The day tour costs P1700 during the weekend with a free towel and buffet (lunch OR dinner).
I was feeling all too groggy at that time because of the work that I needed to accomplish over the weekend and I didn't entirely want to go because of the need to do the tasks that were assigned to me. However, it has been almost a year already (when Imperial Palace was announcing that they were offering Introductory Promos) that my friends were planning this trip out. It had always been postponed due to the lives of the busy people.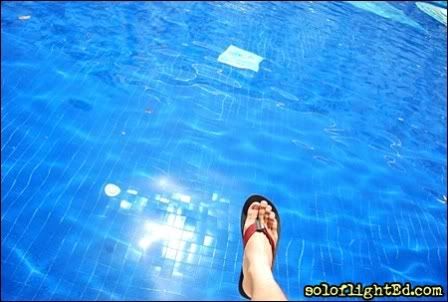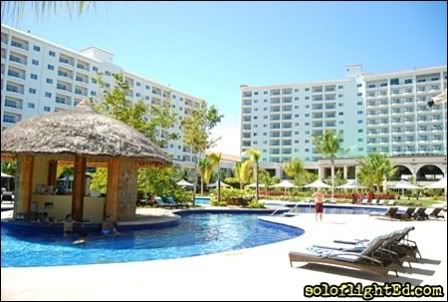 blue pool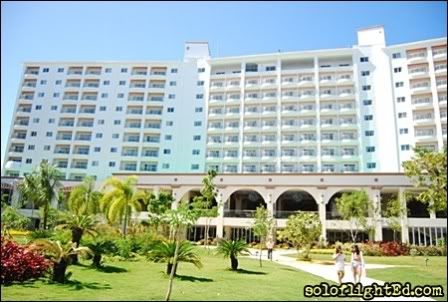 Very wide. Beverly, ikaw ba yan?
What made it better was that they were going to pay a partial amount of the total package since I didn't want to spend that much over this. And because I had a thick face, I willingly obliged and let two gorgeous women pay for my ticket. hehe.
The Imperial Palace Hotel and Resorts boasts that it's a 7-star resort. I didn't know that there was such but they did have a lot of offerings when we were there. It looked like I was in a posh Beverly Hills hotel or a Las Vegas hotel enjoying a drink and a snack while lounging around under the heat of the sun. I forgot to bring my waterproof casing for my camera so the underwater shots were useless.
They have three slides (2 were only available at the time).
The first slide was scary in a sense that you have go down in a tube and you don't know what you're going to expect. At first it was okay as you know where you're going but at the middle towards the end, they replaced the visible surrounding with a covered one and you couldn't see anything. You don't know where you're going which reminded me of old horror flicks in carnivals and town fairs where the killer will slice you into pieces anytime due to being vulnerable and just waiting for light at the end of the tunnel, so to speak.
The other one lets you slide down into a funnel-like case wherein you spin around and around until you fall down. It was crazy especially if it's your first time since you just have to trust your guts that everything will be alright. It's a bit embarrassing too if you freak out knowing that kids are waiting at your back for their turn; anxiously waiting for you to overcome your hesitations and finally jump into the slide.
After the first slides, everything seemed to work fine already. I felt more alive already; just the right rush that I was needing to wake me out of my sleepiness. There were a lot of pictures taken and we just had to drop by every pool available since I doubt when we will ever be back again. The deepest that the pool could get was only 5 feet though.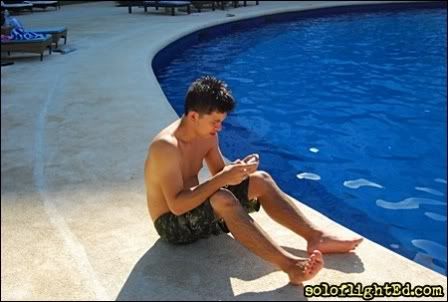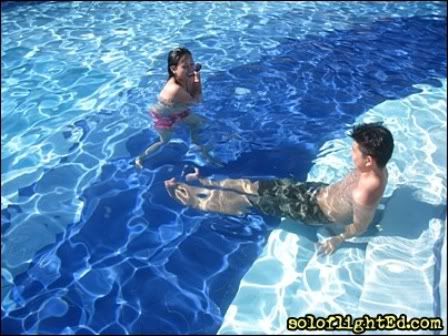 and I thought I could bring my laptop and work. They did have wifi available but with that kind of view, who would want to work?
Attendants were around everywhere which was really great and there were even assigned men and women (I assume they were lifeguards) that carried different beach equipment for play. Poi, frisbees, vollyballs, hoola hoops etc; all seemed ingredients for fun.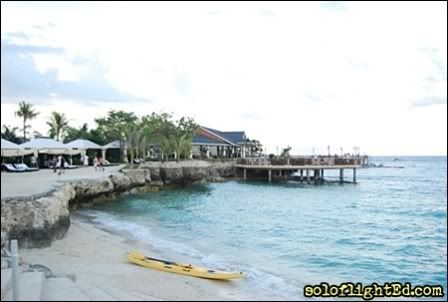 Beach on the afternoon, trying to learn poi and failing.
At night, the place looks even better with all the lights playing to liven up the background. There's a nice play of colors with the lights that illuminated the structures and the pool. The cabanas were really comfortable.
We waited for about 7pm so that we could take our buffet dinner that came with the package. I will blog about it on my next entry as there's been too many pictures in this post already.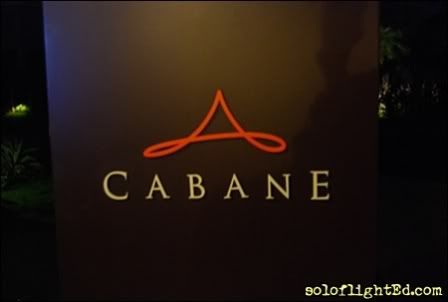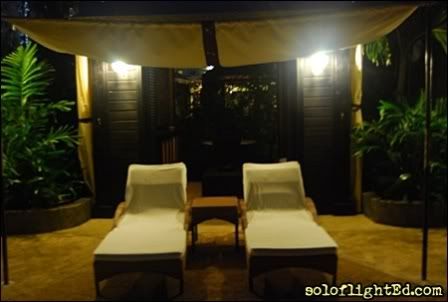 cabanas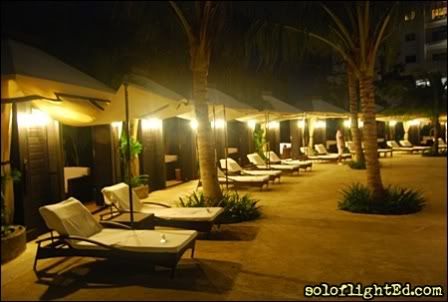 looks relaxing, Imperial Palace
When we got back to the reception, the security personnel were proactive enough to take us to the main front of the resort via a golf cart and made sure that we could hail a taxicab to take us back to Cebu City. We headed back home feeling all tired as usual and exhausted because of the day's activities.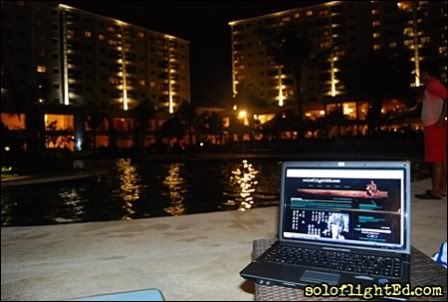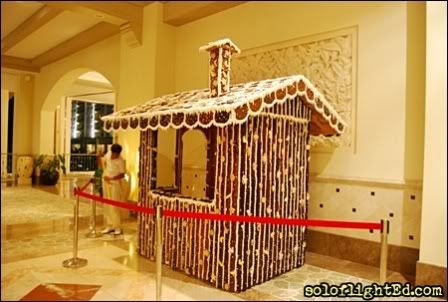 laptop and a gingerbread house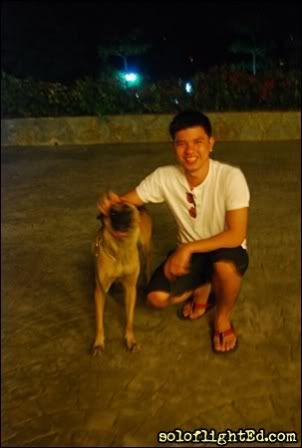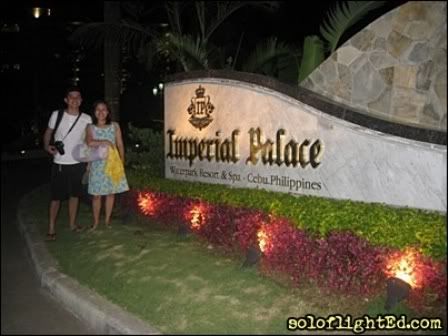 dog and the Imperial Palace front
I was too pooped to even keep my eyes open but I spent a couple of hours at Starbucks in Asiatown IT Park to transfer the photos for the day. When I got back to my pad, I tried to stay awake in order to continue the jobs that were lined up for me but I had to sleep and rest due to muscle pains that drained me till the rest of the day. It was a good weekend in the end.
Prices were steep but that's for my taste since you get good service from the crew. According to what I've heard, the promotion will be up to December 13 only and the prices will revert to their original rates by then. Hopefully, just like Crown Regency Hotel's Edge Coaster and SkyWalk Adventure, there will be another set of promos wherein the prices won't go up.
Imperial Palace price
220 to 250 Php – Cost of Metered Taxi from Cebu City to Imperial Palace in Mactan
1700 Php – Weekend Day Tour Cost (with free lunch or dinner buffet and Familia Restaurant)
210 Php – Cost of Metered Taxi From Mactan Back to Cebu City
Please don't forget to confirm your subscription by checking your Inbox.
---
soloflightEd.com is a travel blog by Edcel Suyo. He enjoys performing headstands and crazy stunts during his trips in the Philippines, Southeast Asia, and the Middle East. Now based in Dubai, United Arab Emirates and working to earn a living, he takes time to enjoy the city and travel during weekends.
For updates, Like his page on Facebook or Follow him on Twitter.
For questions, advertising, and other concerns, shoot an email to ed@soloflighted.com.

---