The tale of the Krispy Kremes.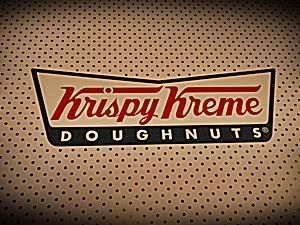 We were running a bit late for our flight back to Cebu and we had to drop by a Krispy Kremes store in Makati because of requests from our office mates to bring them some. We couldn't find any delicacy in Manila so we didn't have any other choice but to oblige. But when we visited the store, it was one of the many instances I wanted to blog about fast.
We specifically went there to get their 550 peso package wherein you can save more money if you buy a dozen Original Glazed and a dozen Assorted doughnuts.
We wanted to get that deal, only to find out that they ran out of Original glazed doughnuts. I was only able to get one package. With that in mind, we couldn't take advantage of the promo. We'd have to pay all the dozen assorted which is a bit more expensive.
They asked us if we could wait for 20 minutes since they'll have somebody from a nearby branch (The Fort) to have what's lacking delivered. I was feeling uneasy because it was already 11:45am and our flight was at 1:20pm so we barely had time to travel to the airport. We didn't really confirm that we agreed to wait for 20 minutes or so but we waited. 10-15 minutes have passed.
When I couldn't resist it anymore, I told one of the crew that I wanted to speak with their manager who I initially thought was hiding. A manager with some online university degree, was hiding. When I talked her (manager), she told me she was on the phone trying to contact the rider of The Fort but they couldn't get through.
I had to explain my side of the story…
"Hi, we're from Cebu and we have a flight in less than an hour. We planned to buy some Krispy Kremes doughnuts because that's what our friends specifically wanted. Sinadya namin kayo kasi gusto naming makuha ang promo nyo. Kaso, naubusan na pala kayo ng Original glazed. If I were you, we could reach to a compromise so that it would be fair for us both. Kahit mabigyan man lamang kami ng konting discount kasi di naman namin kasalanan na naubusan kayo ng stock. Ba't kayo naglalagay ng sign na di naman pala available? I just hope you understand my point."
Pucha, naubusan na ako ng Tagalog dun. Nosebleed nah.
In between apologies and demands, she gave us another option. We could drop by their branch in Mall of Asia, and just pay the cost there as they'll be preparing everything already. However, going to Mall of Asia, despite being near the airport would still take time. We have to go down, walk to the store, get the doughnuts, go back to the car and then travel again –> all of which spelled traffic in between. Other than that, we could only wait for the rider.
The manager was nice though. Problem is they couldn't do anything more except repeat the options they discussed (wait for the rider or drop by MOA). Don't get me wrong, the staff was good to us. But I just felt hopeless at that time. Since we were running out of minutes, we conceded to buying the assorted ones.
It's good if we only bought 3 dozens or so, we wouldn't mind shelling out some more dough (ha, it rhymed). However, we bought 10 dozens; we could've saved 600 bucks if we got the promo (600 is still money).
We hurriedly picked the doughnuts and I felt that they weren't fast enough. I asked them for the tape dispenser as I was taking part in wrapping the boxes properly and putting them into their plastic containers. Even the security personnel helped us; all the while joking on the scenario, I told them I should work here part-time. I wanted to show them that I was NOT angry; we just wanted a fair deal.
I don't take pride in making myself feel important in place of ruining other people's day. I've been through customer service (Jollibee and KFC) and I work for it and when things like these happen, you can't help but demand for some. It's the manager who must make a decision to gain the customer's goodwill back, unless they want to retain us.
Afterwards, the crew informed me that they'll be giving an extra dozen not because of the discount issue, but because of the hassle of waiting for the doughnuts. We thanked them for it. Before we left, I thanked the manager and apologized for the trouble. We were even escorted (wow, feeling mayaman) to the parking area and the crew assured us that we'd still make it on time.
The ending? We arrived at the airport LATE. We had the flight rebooked (with another fee) and we had to wait another 4 hours for the next trip. Bummer. But I wasn't mad with the doughnut store anymore. They were actually friendly; we just did business at a bad time which is partly our fault. The redeeming factor was the extra box that they gave. Besides, I've heard about articles from newspapers that they usually do that (give out doughnuts) if they let you wait. It's the least that they could do, considering we bought in bulk.
The people who ate the doughnuts actually got more than they received, more than they had ever thought.
So that's my Krispy Kremes story, what's yours? ;p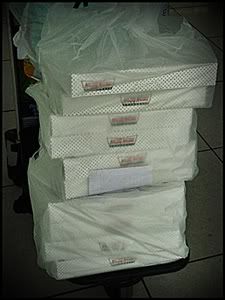 Please don't forget to confirm your subscription by checking your Inbox.
---
soloflightEd.com is a travel blog by Edcel Suyo. He enjoys performing headstands and crazy stunts during his trips in the Philippines, Southeast Asia, and the Middle East. Now based in Dubai, United Arab Emirates and working to earn a living, he takes time to enjoy the city and travel during weekends.
For updates, Like his page on Facebook or Follow him on Twitter.
For questions, advertising, and other concerns, shoot an email to ed@soloflighted.com.

---