so i went back to dumaguete, but this time, it's all business and slight pleasure and tons of pressure. going back to pay some visits and more importantly, to settle some accounts there. ironically, only mine was left on-hold. anyway, trip was hell uncomfortable! left at around 10:30 pm and was only able to buy a ticket when i was on the boat already. but i was thankful that i was still permitted to enter, the boat's fully-booked and packed with sillimanians coz of an educational trip they held here. i didn't have time though, to thoroughly search the vicinity since i wanted to get some shut-eyes but saw a few acquaintances. tried to find a vacant bunk so i could sleep asap but got lost in the process. also kept on asking some service-personnel but they left me to no avail. good if they talked to me in a decent manner, but they didn't even bother to look for an empty space. and to think their shirts were printed with the word STEWARD at the back. tsk, tsk. that's okay, i'm a patient person. sat till 2am and when i finally got a bed, with no help from the "stewards", i immediately slept. got 2 hours sleep.
arrived at 4am, a bit too early than expected. went to find a place to stop so i could kill the time. the only place to go that's open. Dunkin Donuts. sheesh. after, went looking for an internet rental since i wasn't able to catch up on some pending comments. 6:30, visited a friend and surprised her for a while. wasn't able to chit-chat since it was a monday and that i only had that day and it's back to home for me. for i also had classes, or on a stresser no

te, midterm exams on that day to the next. oh well, sacrifice something precious to gain something else.

to summarize what happened, i was able to settle my sibling's accounts but the TOR (transcript of records) weren't met coz the principals of the respective departments weren't there. damn. anyway, since i had a little more time than planned. went with some friends again. ate at Hayahay… had some pizza and my braver mates donned it with this hot HOT chili sauce. the name's DAVE'S GOURMET ULTIMATE INSANITY HOT SAUCE.

The Hottest Sauce in the Universe! The hottest of the Dave's Gourmet line. This is an insanely spicy and delicious cooking ingredient ad should be used diluted (with oil) or in soups, sauces or dressings. Enjoy! Use this product one drop at a time. Keep away from eyes, children and pets. Not for people with heart or respiratory problems.


Extremely Hot – Use with Caution

Heat Scale: 10+
Scoville Units: 90,000
Ingredients include: Red habaneros, tomato sauce, hot pepper extract, onions, red chiles, garlic, cane vinegar, vegetable oil, xanthan gum and sauces.

—–
source

it took quite some time before we subsided from controlling the hotness of the sauce. the waiter was a little apprehensive too since he thought that we'd play with it. it's not part of their regular condiments and they don't share it if the owner doesn't know you. good thing we had connections. hehe. i only tasted it with one of the tips of a fork (what do you call them again?) and did i burn. anyway, should've read from the name itself. had a swell time there, just sitting and getting wasted (although we don't usually do this everytime, and when i mean getting wasted, that means doing nothing and letting the time pass, nothing more, hehe). after, left at around 11:15 coz the boat leaves at 12mn. that's that. don't want to keep it as detailed as before, people might get creeped out. hehe. had a great time with them, and to think that they also had classes the following day. called it quits. hehe. i guess i had more pleasure than business after all.

pics: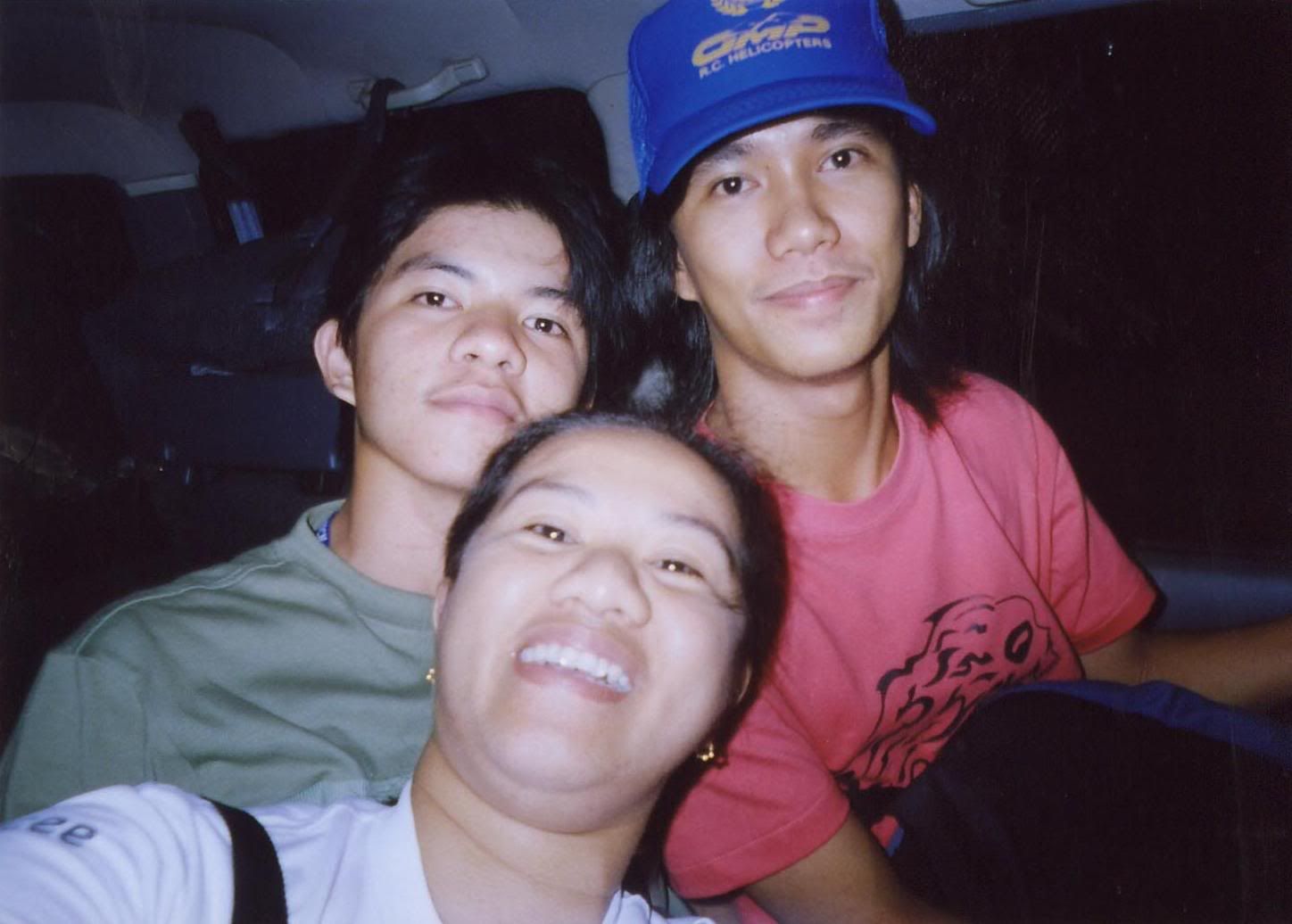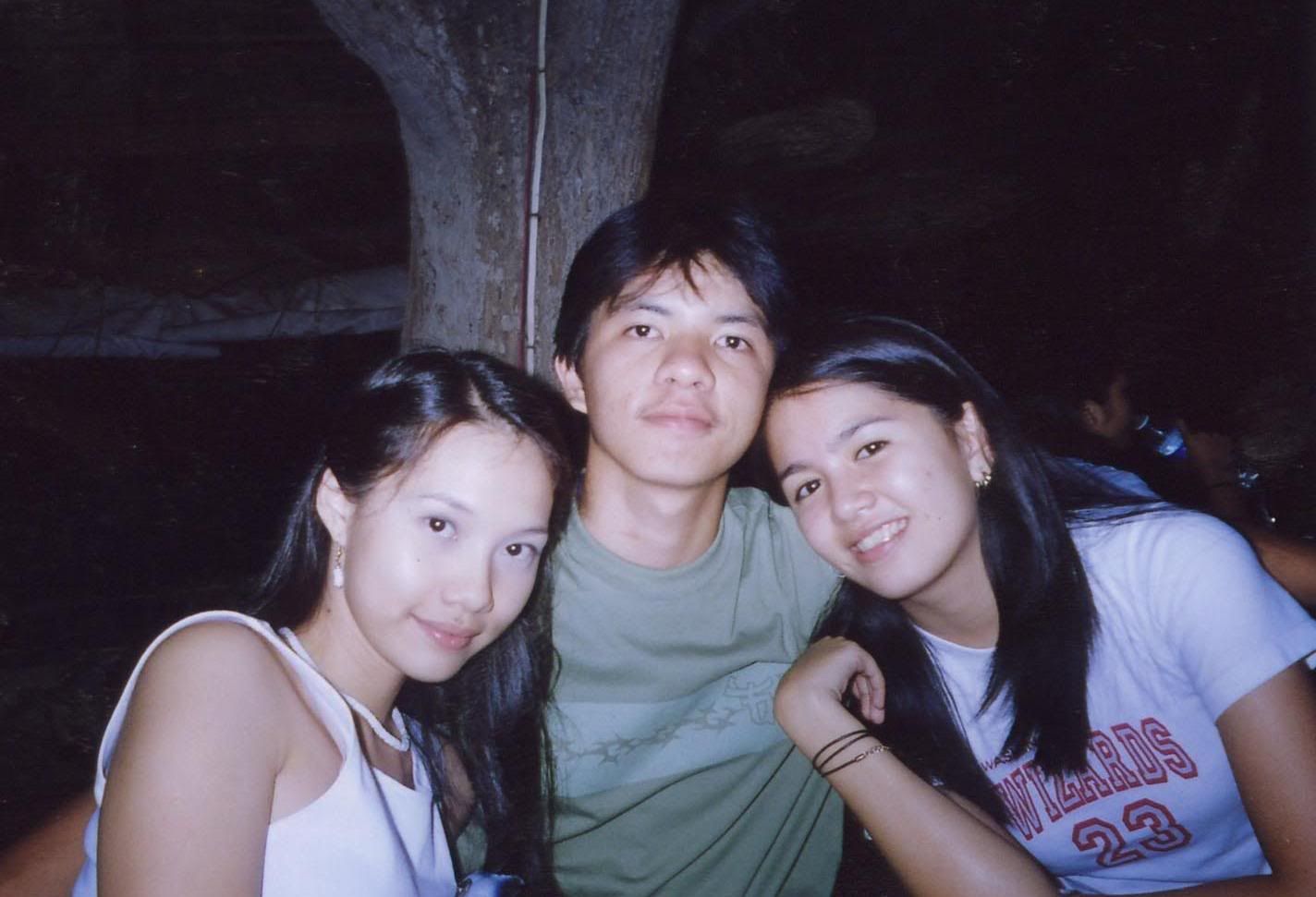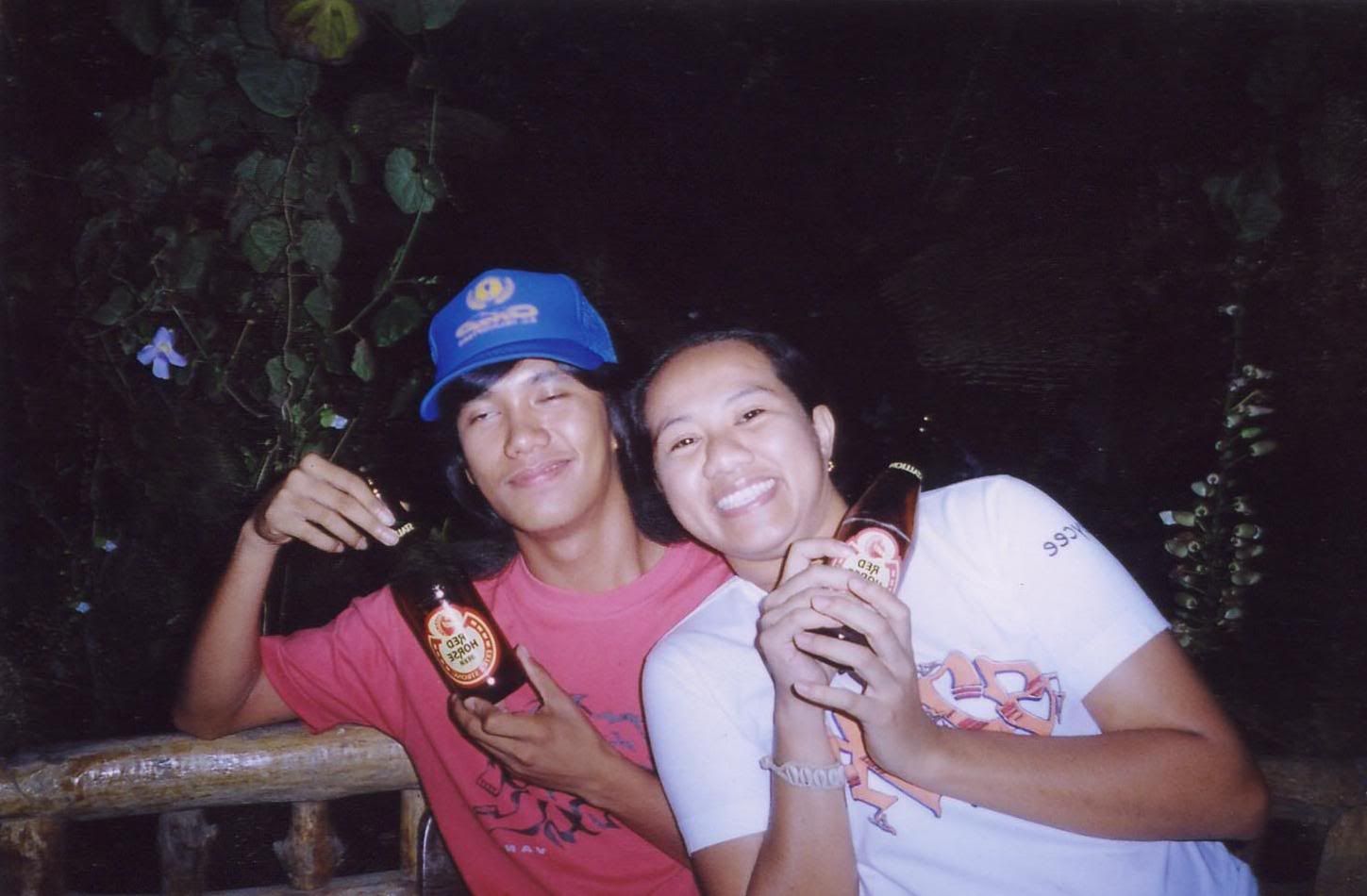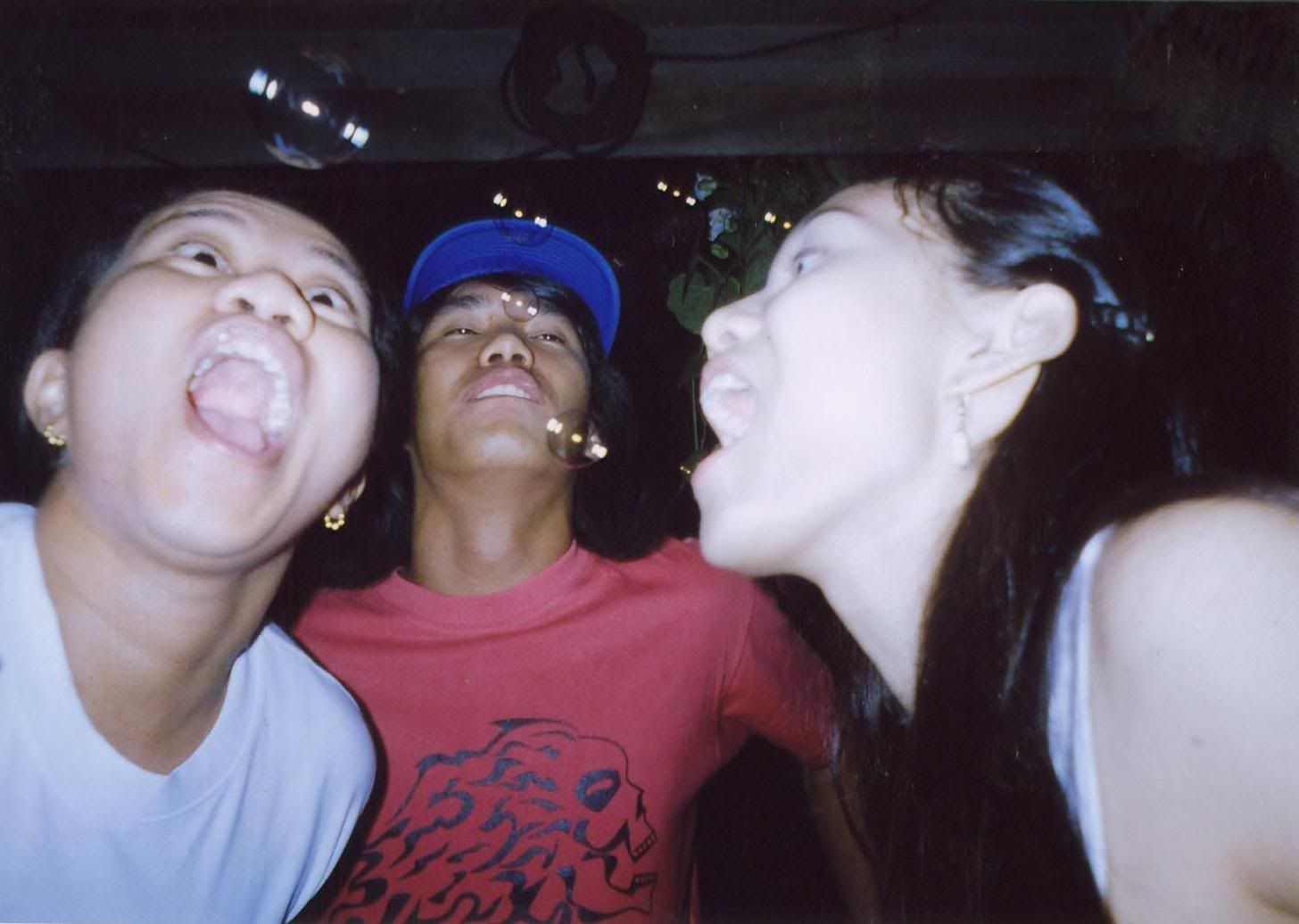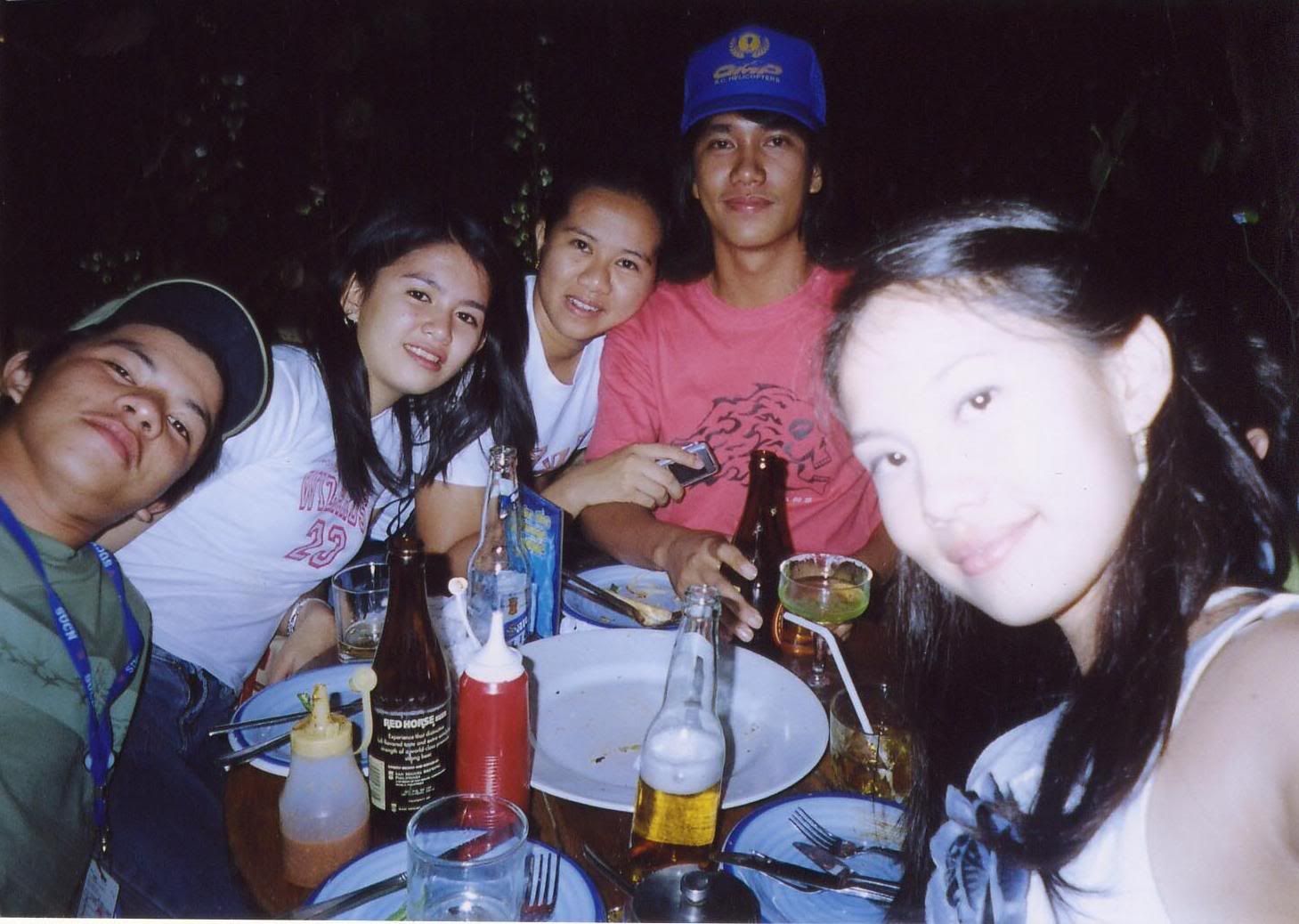 lastly, when i got home, i saw all these red marks from the middle of my back down to the waist on my body. what does this mean? maybe becoz i'm not an avid drinker but does this happen to everyone? or does this imply that red horse = red marks? tell me, gotta ask the expert. hehe
posted Wednesday, 12 January 2005
A visitor made this comment,
Ed, just a little bit of trivia and since you asked, you can the tips/prongs of the fork 'tines'.Same people somehow, they look different. Oh well, guess am missing D that much.And of course, I'm drooling with envy.

nix


comment added :: 12th January 2005, 13:22 GMT+08
CNBGirl

made this comment,
the red marks mean that you have to build up your tolerance for alcohol… inom pa! 😛
comment added :: 12th January 2005, 15:46 GMT+08
amia

made this comment,
hey hey! we might have a dive in dumaguete, apo island yata? im not sure. but it's one of the best dive sites daw in the

philippines

coz preserved daw. kung matuloy kami i will finally see dumaguete! LOL
comment added :: 12th January 2005, 15:49 GMT+08
Shawty

made this comment,
hahahahahahahahahhaha akala ko sinong expert ako pala yun!!! you got me this time ed. lolred horse is definetly not equal to redmarkscnb is right maybe a couple of more red horse and a lot of ehem advise from the "expert" no more red marks for you.. i might give you a good grade in drinking sessions lol
comment added :: 12th January 2005, 23:57 GMT+08
nicole

made this comment,
hahahha i agree with cnb, drink more, practice lang ang kailangan, i used to be like that but then me and my friend hannah practiced drinking every weekend now di na ako mashado namumula :Dtake care!
nicole
comment added :: 13th January 2005, 02:51 GMT+08
A visitor made this comment,
nix: so much for the "closure". hehe. thanks for the tines.cnb: thanks! kakayanin ko to. alcohol every week. :-)amia: haha. oo sa apo island. gud luck!!!shawty: at alam kong di mo ako bibigyan ng maliit na grado dyan. lolnicole: tagay na! ;ped
comment added :: 14th January 2005, 06:00 GMT+08
A visitor made this comment,
buti kaw sa likod lang, ako buong katawan kya i never drank again. (and to think it was a 'harmless' mixture of sprite, gin and calamansi). so, si shawty pala ang 'barrista' naten ha? :)crunchies
comment added :: 17th January 2005, 12:17 GMT+08
Please don't forget to confirm your subscription by checking your Inbox.
---
soloflightEd.com is a travel blog by Edcel Suyo. He enjoys performing headstands and crazy stunts during his trips in the Philippines, Southeast Asia, and the Middle East. Now based in Dubai, United Arab Emirates and working to earn a living, he takes time to enjoy the city and travel during weekends.
For updates, Like his page on Facebook or Follow him on Twitter.
For questions, advertising, and other concerns, shoot an email to ed@soloflighted.com.

---