COCS – Cadet Officer Candidates for (or of?) School

can't believe we practically fooled ourseleves during 3rd year high, having high hopes of being respected when we reach 4th year, coz we were gonna be officers… yes, we were the jackasses, trying to follow every command of our leaders… training, and sacrificing a lot of hang-outs… wasted our time and efforts… every dismissal from 5 to 6, doing marches and following every order… until three of us were left… nix, miko and i… unfortunately, we had the lowest ranks, coz we were not in the 1st section in our batch… (pathetic huh?)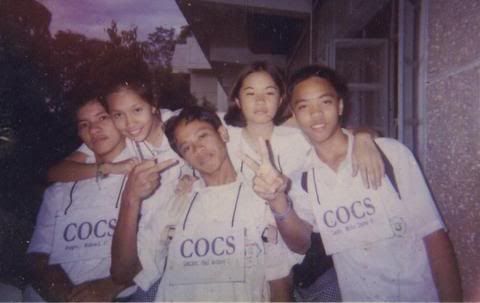 this is one of the pictures i like the most coz according to gale… (2nd one from the left), it showed our 'true' selves… or the way we act with each other…
from left-right:
me: (yeah i'm the one from the leftmost)— can't believe i'm actually posting a pic here… (well it's only the net, and only anyone who has access can view this… ) hehe…
anyways i'm the okay we gotta be serious guys…
gale: she's the 'malambing' person…
paul: medyo may pagka-bulakbol na konte… na parang walang pakialam…. 'the hell i care'
nix
: she's the 'huh? okay, like i give a damn'
and miko: the mister 'ayaw ng gulo' and peace guy….
anyways, there's also something eerie about the pic when i first saw it… gale's right hand is around me, while her left hand is on miko's… sabi ko ba't ang haba ng kamay ni gale??? well, alam niyo na… na kay nix pala yun… got me freaked out for a sec…
posted Saturday, 24 July 2004
A visitor made this comment,
edzel!

haha. i was *fooled* too when i was a junior – nag-officer din ako. pero it was a good experience. 😉

CnB

comment added :: 24th July 2004, 13:03 GMT+08
A visitor made this comment,
haha. the dark green dude. ako hindi naging officer, but kasali ako sa honors squad. d ko alam kung bakit. hehe. dahil siguro sa rapel hehe. tanong, magkakapareho ba ng ugali ang magkakapareho ng pangalan? hehe joke.

amia

comment added :: 24th July 2004, 17:33 GMT+08
edandhisdarkgreenlife

made this comment,
cnb: its edcel, pero cute rin naman ang edzel… hehe… iba-iba talaga ang mga istilo sa pag-train… pero it was one helluvan experience too that i can't seem to forget… binigyan kulay ang pagka-junior ko noon…

amia: di ko na-gets ano ibig mo sabihin, pero na-gets ko na ngayon… hehe… di ko alam, di ko pa kilala masyado si mr. highwayman… hehe… kaw, ha galing mo talaga sa mga ganyan… lol 🙂

comment added :: 24th July 2004, 23:49 GMT+08
nicole

made this comment,
i thought about doing the training for CAT in hs pero i had to go somewhere for the summer pero shempre most of my friends were officers so palagi akong pinu pullout at nag chichika kami lol

take care

nicole

comment added :: 25th July 2004, 03:41 GMT+08
A visitor made this comment,
nicole: hehe, o nga, daming advantage sa pagiging officer, aside from standing out, you can sometimes do whatever you want… 🙂

ed

comment added :: 25th July 2004, 20:31 GMT+08
A visitor made this comment,
decided not to migrate to blogspot.com, scary pics.. gotcha with the hand thing! =) lolz.

nix

comment added :: 26th July 2004, 11:44 GMT+08
A visitor made this comment,
"the dark green dude" – nice one, amia, much "cooler" name, mas bagay sa yo, ed.
you're right, litaw na litaw personalities nyo sa pic na to based on your descriptions. 🙂

crunchies

comment added :: 25th August 2004, 10:37 GMT+08
Shawty

made this comment,
believe it or not nung 3rd year ko (new shcool ako nun). i was kicking the 4th year's asses hahaha.. pucha ano ako sira at pa uto sa knila..

comment added :: 27th September 2004, 00:38 GMT+08
__________________________________________________
Do You Yahoo!?
Tired of spam? Yahoo! Mail has the best spam protection around
http://mail.yahoo.com
Please don't forget to confirm your subscription by checking your Inbox.
---
soloflightEd.com is a travel blog by Edcel Suyo. He enjoys performing headstands and crazy stunts during his trips in the Philippines, Southeast Asia, and the Middle East. Now based in Dubai, United Arab Emirates and working to earn a living, he takes time to enjoy the city and travel during weekends.
For updates, Like his page on Facebook or Follow him on Twitter.
For questions, advertising, and other concerns, shoot an email to ed@soloflighted.com.

---