If ever you get to visit Dumaguete, you'd have to drop by their famous Rizal Boulevard and just feel the scene of people walking by. It's cheap and you don't have to spend much.
A large chunk of growing up and adolescence was spent here during high school. I used to hang out (though not often) with my older brother's classmates (and then my classmates) on booze and talk-filled nights after different school affairs that had required us to go home late. There were even times when we'd stay up all night because the multicab or bus that would bring us home has surpassed the time they would be available. I don't know if they still have a curfew imposed for minors since there was a time when I just walked around and about the boulevard, minding my own business and looking for my brother. I wasn't aware that there was a curfew at all that upon seeing my brother, he told me his friends were caught and were locked up. He was 17, I was 14.
Boulevard isn't extravagant, but it's with the simplicity of having different lights from various establishments and lamp posts illuminating the black landscape that makes the location a great place to hang out. Couple it with the cool breeze and great company, not to mention cheap food, you can't help but just ponder on life and life again.
The beauty of Dumaguete… it's as if everything is in slo-mo. You enjoy the situation, feeling like a poet, even for just a moment.
Rizal Boulevard
Dumaguete City
Negros Oriental
(click for a somewhat larger view)

drama pose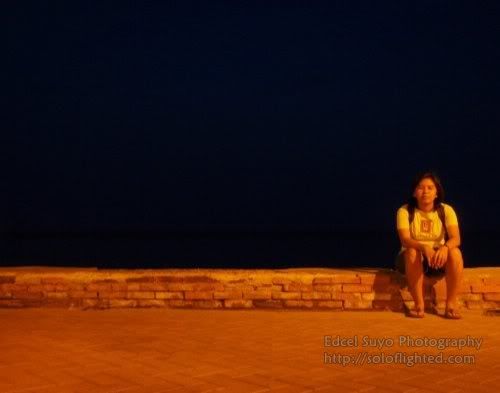 rolica.

tempura and cheap food for sale
—————————
Because I got stranded when I woke up at the terminal and realized that the boat had already left me (read story here), I had the opportunity to see the Boulevard sunrise, which is good since I was able to capture some "okay" shots. At least, this is where I got the header for this site. The only problem is that I looked like a dufus trying to set the timer and positioning myself in front of the camera when there were a lot of people exercising and passing by. I wish I had somebody to take a good snapshot but then I didn't want to ask some stranger to do so. hehe. It just felt weird having to stay in one position for 10 seconds when the coast is clear so I can take a good shot of me looking at the sun while praying that when I turn around, the camera is still there, untouched. hehe.

break of dawn

my header! haha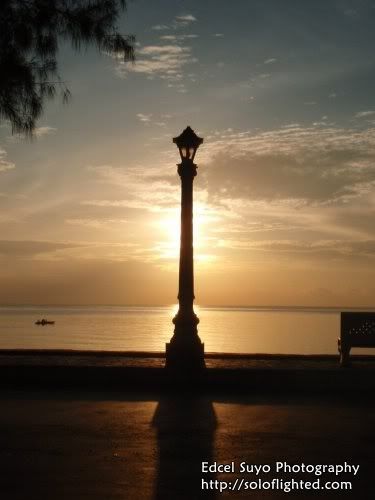 lamp post, Boulevard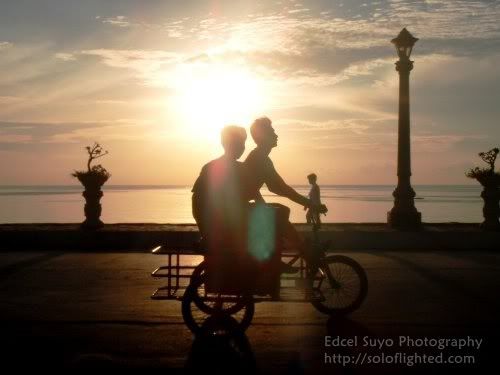 work.
Please don't forget to confirm your subscription by checking your Inbox.
---
soloflightEd.com is a travel blog by Edcel Suyo. He enjoys performing headstands and crazy stunts during his trips in the Philippines, Southeast Asia, and the Middle East. Now based in Dubai, United Arab Emirates and working to earn a living, he takes time to enjoy the city and travel during weekends.
For updates, Like his page on Facebook or Follow him on Twitter.
For questions, advertising, and other concerns, shoot an email to ed@soloflighted.com.

---