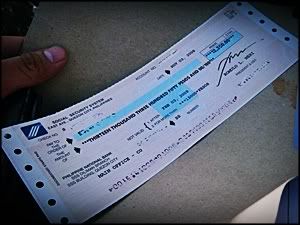 probably because of the problem with my account being tagged as a temporary id number. But wheAfter a month's worth of waiting, I finally got my SSS Loan. It's not much, but it will help a lot.At least, I can pay off some of my tuition using this money. It took me a month, I thought it was only 2 weeks. I had this problemn I had it all settled out, I submitted the application form before I was off to Manila, and hadit processed. I guess there was just a mix up between updating my account and the actual application.
In any case, I'm just glad that it went through and I have the check.
I was told to go to a PNB branch because that's the only bank that can change it to cash. When I went there in between schooling, they told me that I needed to have some IDs and the company's voucher before they change it.
I called the HR of the company I work for and informed them of my predicament. They said I can try to get the voucher from them but it would completely defeat the purpose of me being in the bank. So I asked them what do the normal loaners do. She said that they just have it deposited to their personal bank account… and that's what I did. I went to my local bank and deposited the money there. I just felt like a dumbass not knowing this procedure all along. It could've saved me more time (which is what's lacking in my routine nowadays).
Please don't forget to confirm your subscription by checking your Inbox.
---
soloflightEd.com is a travel blog by Edcel Suyo. He enjoys performing headstands and crazy stunts during his trips in the Philippines, Southeast Asia, and the Middle East. Now based in Dubai, United Arab Emirates and working to earn a living, he takes time to enjoy the city and travel during weekends.
For updates, Like his page on Facebook or Follow him on Twitter.
For questions, advertising, and other concerns, shoot an email to ed@soloflighted.com.

---