Hebrews is a wifi haven!
IT Park is turning out to be a haven for wifi surfers. Given that it's an IT zone, the whole place should have internet connection available. Because it would still be costly, there are only a few establishments that offer wifi service,
One of the normal days where I usually go out and spend some time outside in order to relax while continue working on my projects, I tend to go to coffee shops since they have a better ambiance whenever you just want to be by yourself. I've been to Cakewalkers, Offroads and Brown Cup here in Cebu and so far, it's usually jam-packed and I'd have to compete with other users for some internet connection.

Hebrews
I was happy that I got my Smartbro Plugit so that I can just browse at my own pace and not depend on who's hogging the bandwidth. So anywhere I go, I can surf and bring my work with me without worrying about sharing internet from a shop. But still I need a cool place to chill.
menu, wifi zone, breakfast meal with unlimited iced tea!
I initially planned on going to the first Skyrise building to stay at the Brown Cup for awhile when I passed by the Skyrise 3 building (here in IT Park, buildings here have numbers; well at least 2 of them anyway – i1, i2 and i3 and Skyrise 1, Skyrise 2 and Skyrise 3). However, I was able to come across Hebrews which is a new place and found that there weren't that many people inside. I dropped by to check the prices of the food which were pretty reasonable.
What I'm really happy with is their WiFi connection. It's really fast when I did a speed test on my laptop. It reached up to 10 Mbps! I was the only one inside the cafe but hey, I had to test it a couple more times to believe it.
I figured that there was no need for me to get my Smartbro Unlimited Plug-it as I could enjoy the benefits of having a good desk as well as some air conditioning and I don't have to bother with getting some decent bandwidth space. I also found this great nook near the counter because they maximized a space for a single person to have his own station whenever anybody would bring out his notebook. This is the third day that I've been here. Instead of heading to Starbucks, Coffee Bean or any other coffee shop in Asiatown IT Park, I'd rather drop by here in Hebrew's Cafe and savor every moment of having good great internet connection!
What's great is that compared to the Brown Cup that costs 10 pesos per hour for charging your laptop, you can plug your notebook free of charge. Also, in every table, they have a dedicated outlet so you won't have to bother with extension wires and such which is really convenient. My, my; they really thought about how to set the place up.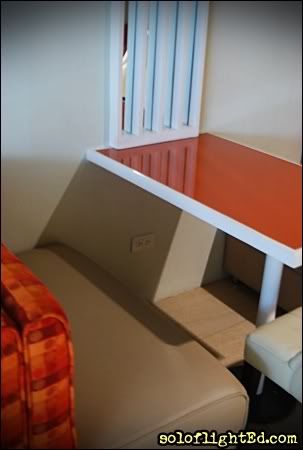 there's a dedicated electrical outlet per table! sweet!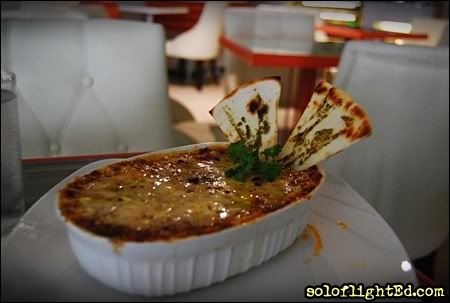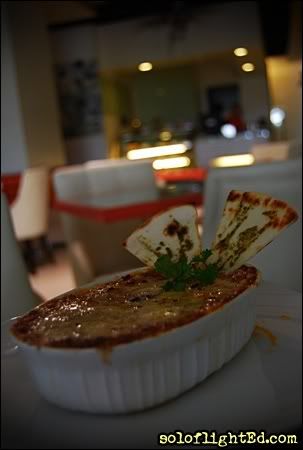 tried their lasagna since it was the weekend (P145, ouch)
I usually order a 95-peso breakfast in order to get some meal fix. You can choose from the day-to-day egg and viand meals or get some pasta, sandwiches or desserts. What's great is that they're not thrifty when it comes to the servings. The servings are big and you can free-flowing iced tea (for the breakfast dishes); yep, that's unlimited iced tea. You can also get some frappes and your daily dose of caffeine if you want.
I shouldn't be publishing the place on this site if I were really selfish just because I don't want to get the place too crowded. However, I really love the cafe now that I want to share and spread the news so in turn, the establishment may keep on serving and hopefully expand with the same kind of service offered. They said that they came from Parkmall in Mandaue but transferred here. Boy am I glad that they did as I can now have a good location to work. I am definitely going to be a regular patron; I've been here 3 days straight, haven't I?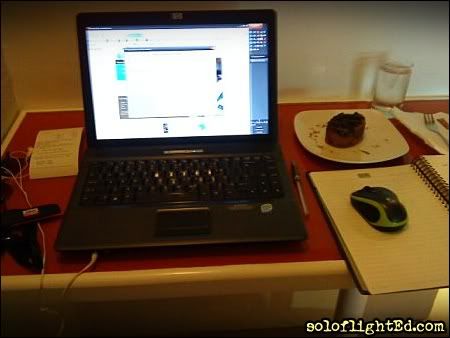 my little corner when it's available. like my own station
Skyrise 3 Building
Asiatown IT Park, Lahug
Cebu City
Hebrews opens everyday 6am to 12:30am
They are right Beside Closet Collection or Tara's Cafe
Please don't forget to confirm your subscription by checking your Inbox.
---
soloflightEd.com is a travel blog by Edcel Suyo. He enjoys performing headstands and crazy stunts during his trips in the Philippines, Southeast Asia, and the Middle East. Now based in Dubai, United Arab Emirates and working to earn a living, he takes time to enjoy the city and travel during weekends.
For updates, Like his page on Facebook or Follow him on Twitter.
For questions, advertising, and other concerns, shoot an email to ed@soloflighted.com.

---