Late post…
Here's the delivery I was talking about in one of my previous posts. Come baby come. My brother took home the desktop and since I needed the pc to continue earning some income online as I can't seem to live without the internet, we figured we'd buy a laptop instead.So now I'm a proud daddy to an hp540 notebook!
I actually miss the 19″ monitor with the speakers. But we think this is a better option for me. We went to SM had scouted for some good laptops. I was actually planning to buy an Acer because I like the bulk and how it looked but we were told that Compaq was a better deal with the type of specs that we wanted.
When we visited the HP center, we were sure to get the Compaq already. However, we found an HP notebook that really looked nice and subtle. Compaq was too shiny for me. After a little sales talk and a bunch of questions we went with the HP instead. We were too tired too, from all the searching. To think that we came from our shifts. We were really exhausted that we couldn't wait to sleep afterward.
Even if this bought using credit, because of the opportunities I've received, I can proudly say I bought this using blog money!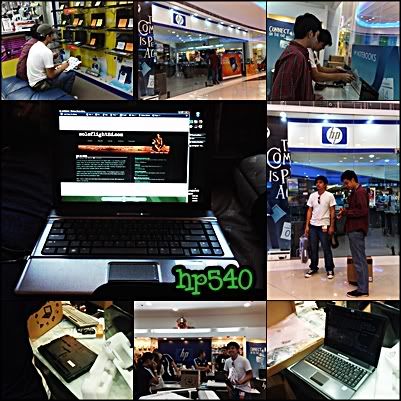 Blog money is such a nice source to spend. hehe.
Please don't forget to confirm your subscription by checking your Inbox.
---
soloflightEd.com is a travel blog by Edcel Suyo. He enjoys performing headstands and crazy stunts during his trips in the Philippines, Southeast Asia, and the Middle East. Now based in Dubai, United Arab Emirates and working to earn a living, he takes time to enjoy the city and travel during weekends.
For updates, Like his page on Facebook or Follow him on Twitter.
For questions, advertising, and other concerns, shoot an email to ed@soloflighted.com.

---