hi blogmates, seems that i can't think of anything to blog the past few days, or these days, rather. can't seem to think of something creative for my cerebral juices to flow freely. so i guess i'll just post what i've been doin.
mmmmmmmmm…..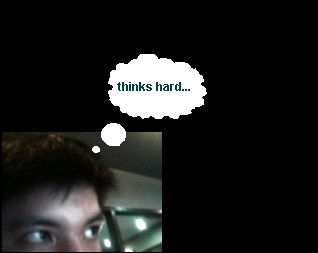 ngek! wala rin pala akong ginawa!
on second thought, meron pala! hehewent strolling with a friend from dumaguete at sm, and just her luck, there was a 3-day mallwide sale! so many stuffs to buy, not enough dough, so many things to check, so little time. what was terrific and excellent, was the number of people inside the building. just great!—————————— ———enough of that, on the more serious side of my life. i'm trying to be more happy with the way things are presented to me. don't have to wallow up in misery anymore. have to get rid of the angst that's been bothering me. people change and life must go on, it just gets harder if i drag myself and be with my "i miss memories"
state. though it's hard, i have to find fun and happiness in what resources i have. sporting a smile ( kahit plastik lang) would be a start. actually, i already did. and i'm feeling better. that's right ed, think sex… er.. happy thoughts. (joke! hehe). really, that was a joke, it reminded me of anne rice's TALTOS…
the very first english novel or the first thick book i've read, ever! (salamat nix !). it's a story of a creature different from ours and i can somewhat relate coz their hands are big. just like mine (ang babaw ko)! hehe… but if you really want to know, i do have big hands… same with the feet. i don't know why i suddenly posted this. but hey, it's to blog or not to blog at all.
ayan meh proof pa kung ga'no kalaki kamay ko… hehe…
back to being positive-minded. i must enjoy life without forcing myself to. i want to be young while i still am. be affirmative.
"Dream as if you'll live forever. Live as if you'll die today."
–james dean
things will go my way…posted Sunday, 5 September 2004
A visitor made this comment,

aba nagbibinata na.LOL. no thanks to the highwayman, im laughin abt the bit abt the hands and feet.amia
comment added :: 5th September 2004, 21:09 GMT+08
nicole

made this comment,
you know what they say about men with big hands…. err they wearr big gloves? hahaha kidding, anyway have a great week!tak care
nicole
comment added :: 5th September 2004, 23:35 GMT+08
A visitor made this comment,
ed: it's the season of blahs as i call it. nothing is coming off my mind too.amia: what about big hands and feet? i'm innocent. loled uli: you look like jego, amia's best bud, that's probably why, 'close' din kayo ni amia. have a good week!

highwayman


comment added :: 6th September 2004, 13:01 GMT+08
A visitor made this comment,
you're welcome edz! hehe. nabalik mo ba yung book sa akin? hey, nicole has a point, you should know what they say about men with big hands, and feet. lolz..hey, taltos' are from atlantis, dba may memories si ashlar [was that his name?] about a wonderful abundant island, i think he's referring to atlantis, [ala lng, kwento ko lang kasi baka d mo pa na gets.. lolz]bay!nix
comment added :: 6th September 2004, 16:15 GMT+08
edandhisdarkgreenlife

made this comment,
amia: hehe… kakainis yung pagiging malaki ng kamay at paa ko. parang inde proportioned sa katawan ko… hehe.nicole: and u know what they say about men with big feet? big shoes eh… lol :-)highwayman: onga, mukhang nahawa ata ako. hehe… last week nga lang rin eh i got the flu too.. hehe. teka, sino si jego? wag sana yung jego na nasa bubble gang ha… (seriously) LOL…nix: andito pa sa bahay yung libro mo. di mo pala nakalimutan… hehe… about ke ate nicole, i'm not saying yes or no about the big hands and feet… hehe… about sa atlantis, i didn't really read 'read' the book. di ba i needed a dictionary to accompany me back then??? pero still, i loved the book becoz of

anne rice

's style… erotic…. hahahaha…
comment added :: 7th September 2004, 18:51 GMT+08
Shawty

made this comment,
oo nga whats with big hands and feet?? lol.. innocent ako!!!i like the hair ed.. wala lang : )yeah "close" sila ni amia hahahaha kidding ed
comment added :: 7th September 2004, 20:52 GMT+08
A visitor made this comment,
parang lahat tyo mayroong blogging block ngayon a. weird. hehehe.inunahan ako nung nag-comment sa taas about big hands and big gloves. hehehe.sedricke
comment added :: 8th September 2004, 02:50 GMT+08
A visitor made this comment,
I have "taltos" for years! But I never got the effort up to read it. First three pages lang lagi then it's back to accumulating dust in the shelf. If you can find

John Irving

, he's an interesting read. I personally recommend "The Hotel New Hampshire" or "

The Cider House Rules

". You can find him sa book sale na because Nat'l and Power don't carry these books anymore. Tagal na kasi di pa masyadong commercialized. Pero maganda. Promise.
angel
comment added :: 8th September 2004, 13:20 GMT+08
crunchies

made this comment,
onga, nice hair. 🙂 big hands? hopefully, the rest of you will follow as you grow older. 🙂
comment added :: 8th September 2004, 19:43 GMT+08
Nix

made this comment,
dah, oh well..anywayz, the book is yours ed.\about bloggers block: is there such a thing? or tinatamad lang tayo.. lolz..=)
comment added :: 9th September 2004, 13:29 GMT+08
A visitor made this comment,
shawty and crunchies: about sa hair, kakatawa kasi messy masyado buhok ko dyan. photo wasw taken mga alas dos ng umaga. epekto ng cap ko yan. hehe.. but thanks anyway! ;psedricke: onga, kaya nga mejo blah-blahs yung mga pinapamblog ko, at least merong nai-blog.. :-)angel: taltos was the book given to me by nix kasi walang lugar sa maliit na bag nya. i really didn't understand the book that much, innocente pa masyado utak ko nun. hehe… but thanks for the reccomendations! i'll try to find those when i have the time.nix: what about lasher nix? and sabayin mo na rin ang the witching hour… hehe… about sa blogging block, i like to believe there is such a thing, like there're too many things going on in your head but you can't choose what to write, and after several attempts, your mind goes pfft, and then decide that you won't blog anything at all.ed
comment added :: 10th September 2004, 17:15 GMT+08
CNBGirl

made this comment,
nasa queue ko yang taltos, hanggang ngayon nde ko pa nauumpisahan…nice hair nga… 😉
comment added :: 13th September 2004, 10:29 GMT+08
Please don't forget to confirm your subscription by checking your Inbox.
---
soloflightEd.com is a travel blog by Edcel Suyo. He enjoys performing headstands and crazy stunts during his trips in the Philippines, Southeast Asia, and the Middle East. Now based in Dubai, United Arab Emirates and working to earn a living, he takes time to enjoy the city and travel during weekends.
For updates, Like his page on Facebook or Follow him on Twitter.
For questions, advertising, and other concerns, shoot an email to ed@soloflighted.com.

---