Tagala's Chicken Butterfly
infront of University of San Carlos – Talamban Campus USC-TC
Talamban, Cebu
I'm glad that I get to have classes in the Talamban Campus despite having most of my subjects in the Main Campus. What I usually like is that I get to eat really budget meals, good for students there. We have siomai sa tisa, ngo hiong (dunno how to describe it), barbecue etc. As always, there are the usual healthy meals. But the one that I would like to talk about would be Tagala's Chicken Butterfly.
It's the budget chicken house that I always go to and keep coming back mainly because of two things: the chicken skin and their chili sauce. Don't be fooled, this is street food in an establishment, and it's just fried chicken and some puso (hanging rice) that you get to dig your hands into.
I relish every minute of eating their chicken, glorified by all the oil and cholesterol. A lot of students eat at Tagala's Chicken because it's a well-known place to have lunch especially if you'r budget-conscious. I believe they have a branch near Cebu Doctor's College (the old building) and near Velez College.
I'll be missing this food place by summer.

Tagala Chicken Butterfly, infront of University of San Carlos Cebu

TAGALA!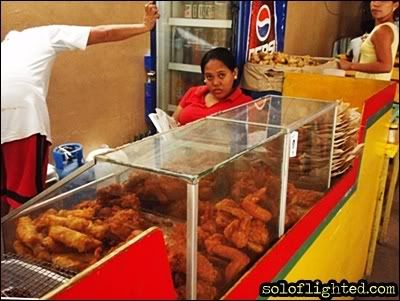 fried chicken ready
I bought a wing and a thigh, plus some puso (hanging rice)
now here comes their chili sauce!
my Tagala chicken meal
after wrapping a cellophane turned glove, it's time to dig in!
One last look of Tagala's Chicken Butterfly
Please don't forget to confirm your subscription by checking your Inbox.
---
soloflightEd.com is a travel blog by Edcel Suyo. He enjoys performing headstands and crazy stunts during his trips in the Philippines, Southeast Asia, and the Middle East. Now based in Dubai, United Arab Emirates and working to earn a living, he takes time to enjoy the city and travel during weekends.
For updates, Like his page on Facebook or Follow him on Twitter.
For questions, advertising, and other concerns, shoot an email to ed@soloflighted.com.

---