Still trying to transfer the pictures from Dumaguete. But I just had to get out of the house again so I visited the office and did some work. I know I have to finish some projects such as my Hist17 one. I'm tired of making a scrapbook but I have to deal with it.
Bummer.
I couldn't feel the Christmas season this holiday when it's supposed to be the happiest time of the season. Sure there were parties and a couple of booze-filled nights, I even went home for the traditional noche buena but something's still missing I can't define. Maybe I'm just keeping a blinding eye and have just denied the process of what's important which makes me wonder how long I can keep this sappy face up.
At times when a vast empty space permeates the air at work, I turn to pandora and listen to its tracks that I've effortless chosen to soothe my mind and bring some music into the dreary silence of routinary practices.
Bingeing on food doesn't hurt either. Just that people have been noticing that I've gained weight but not until I see myself as a big tub of lard will I ever get conscious of my appearance again. I can care less for now as I need all the nutrients I can get to prepare for the next three months during the next year. 
Blah.
I want to learn more and get more information on how to earn some extra money online cause it seems that the momentum, although it's good already, isn't as fast as I want it to be. Maybe I should set up a porn site instead. 
There are things that you want to veer from because it will definitely strike a chord, one way or another. But it's nice that some of us would be careful enough with words to avoid pulling somebody else's strings so that things would be where they should be. I can relate to the attempt of concealing the motive because you want to protect other people in finding the truth.
Sigh.
Staring into abyss. Am I doing this lately? Not quite, I'm probably just bored enough to write a senseless post in order to have something to discuss without really putting too much thought because you just want a small part of your brain, your eyes and your fingers to communicate by themselves.
Anyway, I finally bought myself a couple of chucks. I figured I should reward myself in some way since the 13th month bonus that I had was given to pop for home use. I don't know what happened to it but I don't want to bother myself with it as well.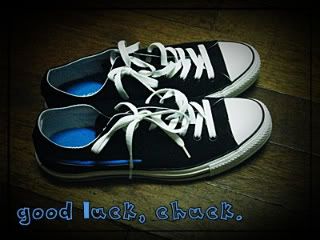 I'm a nonconformist but when I couldn't find a simple style in Puma, I had to give in to Converse. Out goes the plastic.
Please don't forget to confirm your subscription by checking your Inbox.
---
soloflightEd.com is a travel blog by Edcel Suyo. He enjoys performing headstands and crazy stunts during his trips in the Philippines, Southeast Asia, and the Middle East. Now based in Dubai, United Arab Emirates and working to earn a living, he takes time to enjoy the city and travel during weekends.
For updates, Like his page on Facebook or Follow him on Twitter.
For questions, advertising, and other concerns, shoot an email to ed@soloflighted.com.

---