Passing off a chain that came from word slayer blogger, AJ Poliquit, whose writing leaves me looking for tissues to wipe my nose. My 7 Links – This is a project by Tripbase "to unite bloggers from all sectors to share lessons learned and create a bank of long but not forgotten blog posts that deserve to see the light of day again".
soloflightEd.com was a personal blog that evolved into a travel blog. But I've been blogging since 2003. It's been a long time since I received a tag from somebody and this is a great opportunity to share and revisit old posts for readers who just stumbled upon this site.
By the way, the posts I'll be sharing will be based on the 3 years when this site evolved into a travel blog as tracing as far as 8 years would be too tedious and embarrassing on my end – I'm done with the 'I-hate-the-world-and-it-hates-me-too' crap. haha.
My 7 Links: Revisiting Old Blog Entries
This was an entry for a blog carnival themed Most Romantic Places in the Philippines. Beautiful not only because of the place, but this is one of the rarest occasion wherein I shared a topic that I don't write about and at a point, made me become vulnerable. Next topic please.

beautiful sunrise in Malapascua Island
Being one of the first few people to write about the Skywalk Cebu Adventure in Crown Regency Suites, Cebu, it became friendly to search engine results. This is the blog post that has the most number of views.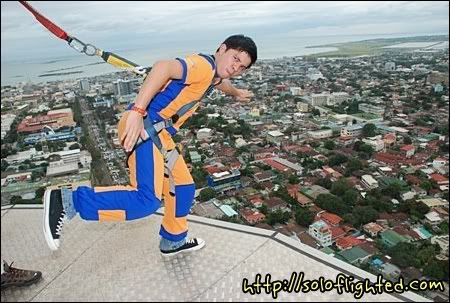 I preferred the Edge Coaster Adventure Cebu! experience
I'm not sure if this is really controversial but there are those that take blogging seriously. Like AJ, I also stay away from placing controversial posts because blogging for me is a way to express myself in order to release stress and not attract some. So what is a travel blogger? I confessed and bared my thoughts on things that make me less of being called one.

looking for car hire in Bangkok… NOT
I've written a number of helpful blog articles but this one stood out among the rest. This is for the reason that I got sick and had to take a break from blogging after completing the series.
This is a summarized compilation of articles (totaling 20 in all) about Siem Reap, Cambodia when we visited the place last January this year. Funny how only 3 days of exploration took me 3 months to complete it.

this fake Apsara dance was not the reason I got sick, FYI.
I won a free trip to Boracay because of this blog post. I also met other bloggers along the way and made me build connections – I was too shy to mingle in the blogosphere  community back then.
Aside from winning the contest, this helped me focus on creating a concept in every article that I write to help me highlight a particular theme that happens during my travels.

dragged by a cable wire in Camsur Watersports Complex (CWC)
A post you feel didn't get the attention it deserved: Enchanted Kingdom Blues
I wrote about how my second attempt at visiting Enchanted Kingdom (EK) left a bitter taste in my mouth. It turned out that the theme park was closed as a telecommunications company celebrated their 'Family Day' there.
Now what caused this to be a post that didn't get the attention it deserved? After posting this, the Head of the Guest Relations commented on the blog entry, informing me of a treat that awaited if ever I could drop by Manila again. Luckily, I did drop by after two weeks and after a few emails, I finally experienced the 'magic' of EK. I feel like I've never gotten to thank them enough that's why I'm reposting it here.
This is part two of that blog post wherein I finally entered EK: Free Tickets to Enchanted Kingdom!

bitter no more 😀
…and still maintain your full-time job. More than the blog article, I'm proud of the thought that I was able to achieve the feat of travelling to these many places at a short period of time. I wish to recreate or surpass this one in the near future though.

I kept my full-time job in the process
This was a fun recollection. I am passing this chain to five fellow travel bloggers from the South. Hope to read their write-ups soon.
Doi of thetravellingfeet.com
Edwin of lakbaydiva.com
George and Izzy of wherethetravels.com
Sinjin of libotero.com
Edcel and Sheena of thewanderingcouple.com
Please don't forget to confirm your subscription by checking your Inbox.
---
soloflightEd.com is a travel blog by Edcel Suyo. He enjoys performing headstands and crazy stunts during his trips in the Philippines, Southeast Asia, and the Middle East. Now based in Dubai, United Arab Emirates and working to earn a living, he takes time to enjoy the city and travel during weekends.
For updates, Like his page on Facebook or Follow him on Twitter.
For questions, advertising, and other concerns, shoot an email to ed@soloflighted.com.

---